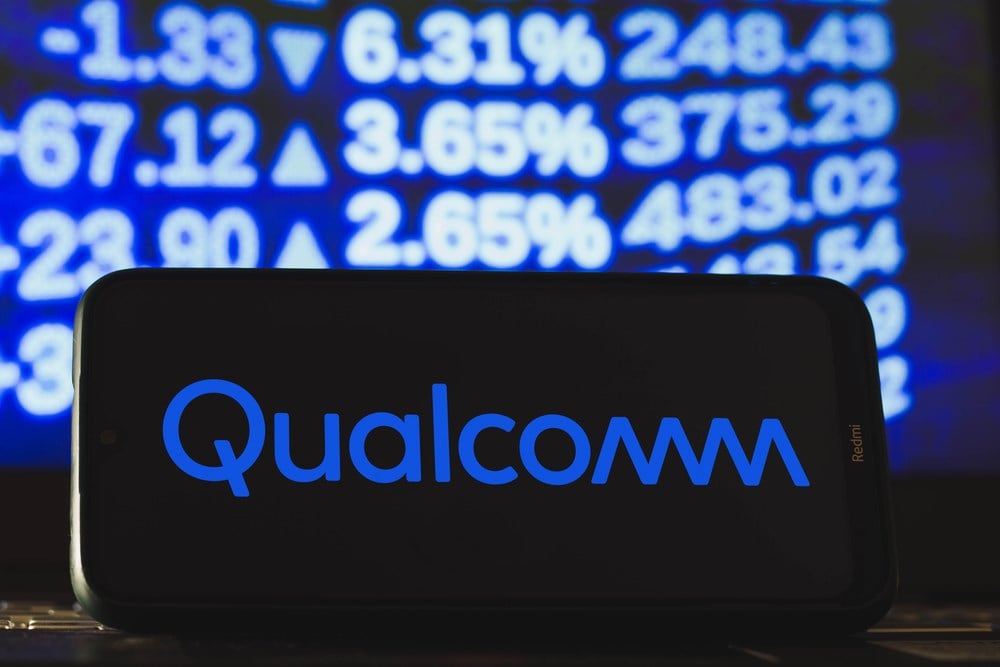 After undoing pretty much all of 2022's slump, the semiconductor industry roared back to life this year. Helped largely by the fresh hype around AI and the role semiconductors will play in that business, the likes of NVIDIA Corp (NASDAQ: NVDA) saw gains of 350% through July. The gains were widespread, too, as seen in the 85% tacked on by the iShares Semiconductor ETF (NASDAQ: SOXX) over the same time period.
But since the start of August, there's been a noticeable slump in the bid. Questions are being asked about the rally's strength, how much of it is hype versus reality, and whether semiconductor stocks have gotten ahead of themselves. 
NVIDIA's price-to-earnings (PE) ratio of 230 alone should give cause for concern around valuation levels, but that's not to say there aren't other semiconductor stocks out there that still hold a ton of potential.
One such name is Qualcomm Inc (NASDAQ: QCOM). Its shares have lagged behind both NVIDIA and the iShares Semiconductor ETF this year to date, but there's a lot of potential for them to outperform in the final few months of 2023. Here are two reasons to like Qualcomm and one reason to avoid it.  
Catch Up Potential
While NVIDIA was printing all-time highs at the start of the summer, Qualcomm shares were dipping down to their lowest levels since 2020. No one can argue that Qualcomm's shares are overbought. If anything, with a relative strength index (RSI) of 36, they're actually approaching oversold levels.
This underperformance has been blamed on individual business units within Qualcomm dragging down wider revenue. Recent earnings reports have also highlighted management's growth concerns, which have overshadowed any upside Qualcomm might have benefited from as the hype around AI took off. 
For those of us on the sidelines and with an appetite for a long-term investment, this has created a huge buying opportunity. With NVIDIA's PE ratio well up in the triple digits, Qualcomm's is a paltry 15. Compare this to other tech names like Meta Platforms Inc (NASDAQ: META), whose PE ratio of 35 is considered to be at the low end of things, and Qualcomm's valuation becomes even more attractive. 
While its shares haven't caught the AI wave like many of its semiconductor peers, they still hold attractive exposure to the industry over the long run. Any signs that recent headwinds, specific to Qualcomm, might soon be starting to clear will open the way up for a massive catch-up play. 
Technical Support
In addition to technical indicators like Qualcomm's RSI starting to point towards the bears running out of steam, additional reasons to be bullish exist in the form of technical support around the $100 mark. It's here that buyers stepped in to stop the sellers both in October last year as well as in May.
Given how well-defended the level was both times, it's fair to expect similar strength to emerge once again if shares go back down there. 
Considering the wider industry slump that's starting to drag down even NVIDIA as Wall Street takes a breather from AI, it's not unreasonable to think Qualcomm shares might remain under pressure into the fall. They're down 15% already from the start of August, and another 10% drop would see them at $100. 
Again, if you're a believer in the potential, the AI market holds over the coming years and Qualcomm's exposure to it, this is an opportunity to work some interesting entry orders around long-term support. Were shares to break below $100, it would make for an easy exit decision. But with the RSI already starting to point towards the stock being oversold, it's hard to see the buyers allowing that to happen. 
Still A Risky Option 
Despite its comparatively attractive valuation and the technical indicators supporting a long position, there's no getting away from the fact that Qualcomm shares have failed to capitalize on what might have been the hottest industry tailwinds for many years. Even Intel Corporation (NASDAQ: INTC) shares, with their long history of underperformance, have tacked on 45% this year while Qualcomm stock fights to keep its head above water. 
This underperformance might simply be too much for many investors to get involved. Indeed, the team at Deutsche Bank downgraded their rating on Qualcomm at the start of the month, moving them to a Hold rating on the back of what they called "the company's growth potential" remaining challenged. It echoed the bearish sentiments from Wells Fargo, who reiterated their Underweight rating on the stock the same week and gave shares a price target of $95. 
Qualcomm needs to reverse the revenue and earnings slide that has plagued its earnings reports for the past year. If it can do this in the coming months, the upside opportunity will blossom for the reasons mentioned above. If not, we can expect that $100 level to be tested and tested hard.