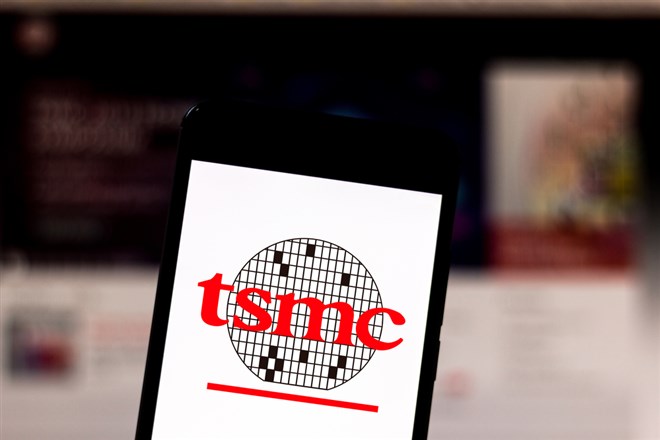 The Taiwan Semiconductor Manufacturing (NYSE: TSM) stock price is enjoying renewed enthusiasm from bulls over the past five days, gaining 4.91% in today's trading session alone.
Part of these gains can be chalked up to a rally for semiconductor stocks in general and a lift in the broader market. The NASDAQ Composite index has gained 2.14% since Tuesday last week, while the iShares Semiconductor ETF (NASDAQ: SOXX) is up more, with a 6.60% gain over the same period.
Some important events unfolded for the semiconductor industry during this time. Let's investigate what those are and what they could mean for TSM moving forward.
Taiwan passes Chips Act
Lawmakers in Taiwan today have introduced new incentives for Taiwanese chipmakers in the country. Under the new legislation, semiconductor producers can claim back 25 percent of their annual research and development (R&D) expenses as tax credits each year and 5 percent of their annual capital expenditure on advanced processing equipment.
The goal is to encourage domestic chip foundries such as TSMC to keep their operations in the country. It will also discount the purchases of extreme ultraviolet lithography machines, which are needed to produce the world's most advanced chips used in everything from consumer electronics to high-end military defense systems.
The numbers at a glance
A 25 percent R&D tax credit is significant. Framing these numbers is that R&D spending in Taiwan reached $11.7 billion in 2021, as reported by EE Times. This is around 14.4% of the industry's global R&D expenditure for that year. So the Republic of China is pledging to give back over $2.25 billion annually to chip makers within its borders.
The rationale behind the move was officially stated as an effort to maintain parity with the supply chains of Taiwan's western counterparts, such as the United States, which passed its own Chips Act in August last year. However, another reason which has been kicked around social media is that Taiwan's existence as a going concern largely depends on the size and longevity of its chip industry.
A strong chip industry means western nations are more likely to defend Taiwan in the case of an invasion from China, lest the facilities fall into the rival's hands. Having these expensive and highly valuable facilities on the island also helps dissuade them from being potential targets. China would rather rule the world by controlling the chip market than its own rubble columns.
What will the Chips Act mean for TSMC?
A 25 percent tax credit for TSMC will add significant cost savings for the company. The company's R&D expenses in September last year ended at $5.23 billion for the last twelve months. If we were to apply for the tax credit retrospectively to TSMC's results for FY21, we'd see a $1.30 billion credit applied to go toward paying off the substantial tax bill it incurred in 2021.
Considering this $1.30 billion credit, TSMC's tax provision for 2021 was $2.30 billion. All else being equal and assuming the tax credit wholly applies would have reduced the period's total income tax expense by over half at a 56.52% discount.
But TSMC's far larger expense in 2022 was capital expenditure, at around $36 billion. Microchip fabrication plants are some of the world's most expensive industrial and commercial real estate pieces. Two of TSMC's plants due to be built in Arizona will cost $40 billion total, thus making it one of the largest foreign direct investments in US history.
They assume that just $20 billion of the $36 billion is eligible for the tax credit. Again, applying it retrospectively to the company's results in 2021 brings the total tax savings to $2.3 billion, while TSMC's total expenses for the year were $30.7 billion.
These numbers represent Taiwan's commitment toward its chip industry and how large of an impact a tax credit for extremely capital industries can have. TSMC may then decide to funnel these extra funds towards helping to scale its production facilities - particularly since it may be the start of incentives from the Taiwanese government to keep chip producers on its shores.