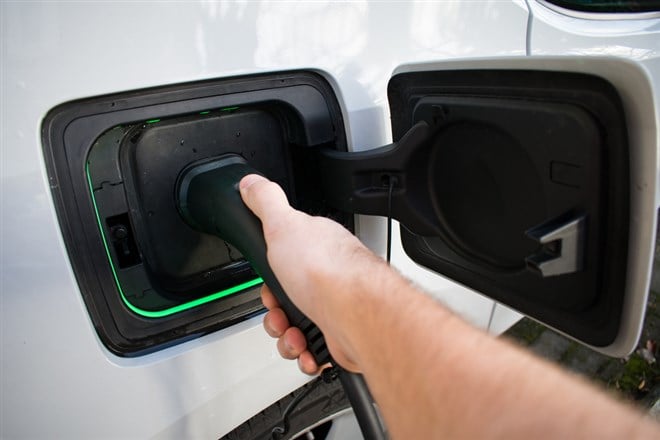 Tritium DCFC Limited (NASDAQ: DCFC) is one of the largest DC electric vehicle (EV) fast charger makers globally. They have a 20% market share in the US and 10% in Europe. They have sold over 10,000 chargers throughout more than 41 countries. They began 2023 as the world's third largest maker of DC fast charging (DCFC) electric vehicle (EV) chargers, with the second highest global market share for fast chargers.
They supply charging stations with their commercial-grade products. Tritium is not to be confused with charging stations like the largest charging network ChargePoint Holdings Inc. (NASDAQ: CHPT), Blink Charging Co. (NASDAQ: BLNK), Telsa Inc. (NASDAQ: TSLA) supercharging network, and DCFC network operator EVgo Inc. (NASDAQ: EVGO). Tritium is a supplier and competes with cleantech charging solutions maker Beam Global (NASDAQ: BEEM) but generates five times more revenue.
AC vs. DC Charging
Electricity from the electric grid to your house is alternating current (AC), which requires a converter. Direct current (DC) charges much quicker as it houses the converter inside the charger, but these chargers are very bulky and limit the total number placed at a charging station. DC charging can charge an EV in less than 20 minutes.
Level 1 charging can be done on a 125-volt outlet taking anywhere from overnight to two days of charging at home to charge an EV battery fully. Level 2 uses a 240-volt outlet and can charge an EV in five to 21 hours, usually found at malls, parking garages, and workplaces.
Level 3 is known as DC fast charging (DCFC) and can range in output from 50 kW to 350 kW to charge an EV but requires a 480-volt electric power source, usually only found in level 3 charging stations.
These can charge an EV in 15 minutes to over an hour. These are not available for home use since they are more geared to commercial and industrial settings. There are much fewer level 3 stations than level 2 stations due to the costs needed for the infrastructure. Level 3 charging comes at a premium costing anywhere from an extra 25% to 40% more than level 2 stations.
Largest Single Order
On Jan. 17, 2023, Tridium announced they had received the largest order from a single customer, U.K.-based bp pulse. bp pulse CEO commented, "As bp's EV charging infrastructure goes worldwide, Tritium is a natural choice for this order.
Tritium has a global presence and industry-leading DC fast charging technology – we're looking forward to putting these chargers to work across three continents." The contract is part of a multi-year contract announced in April 2022. Tritium is to supply chargers and related services that support bp's electrification growth plans.
Calender Year 2022 Preliminary Results
On Jan. 12, 2022, Tritium released its preliminary calendar year 2022 results for December 31, 2022. The Company secured its most significant order from a single customer, bp pulse, for deployment in the UK, US, and Australia. The most considerable monthly production output ever was in December 2022.
Year-over-year (YoY) sales grew 38% to $195 million in 2022. Revenues are expected between $95 million to $102 million in the calendar year 2022, of which $72 million was generated in the year's second half, up 157% YoY. Cash and cash equivalents were approximately $70 million at the end of the calendar year. The Company is starting 2023 with a record backlog of $159 million.
2023 Guidance
The Company expects revenues to grow through $200 million in the calendar year 2023, indicating an annual growth rate of 100%, with 35% expected in the first half of 2023.
CEO Comments
Tritium CEO Jane Hunter commented, "2022 was a foundational year, putting many of the building blocks in place to deliver our long-term competitive strategy while still achieving record revenue and sales. With the listing of the Company on the Nasdaq, opening the Tennessee factory, securing the world's best customers, and rounding out our talented management team, Tritium is better positioned than ever to capitalize on the opportunities ahead."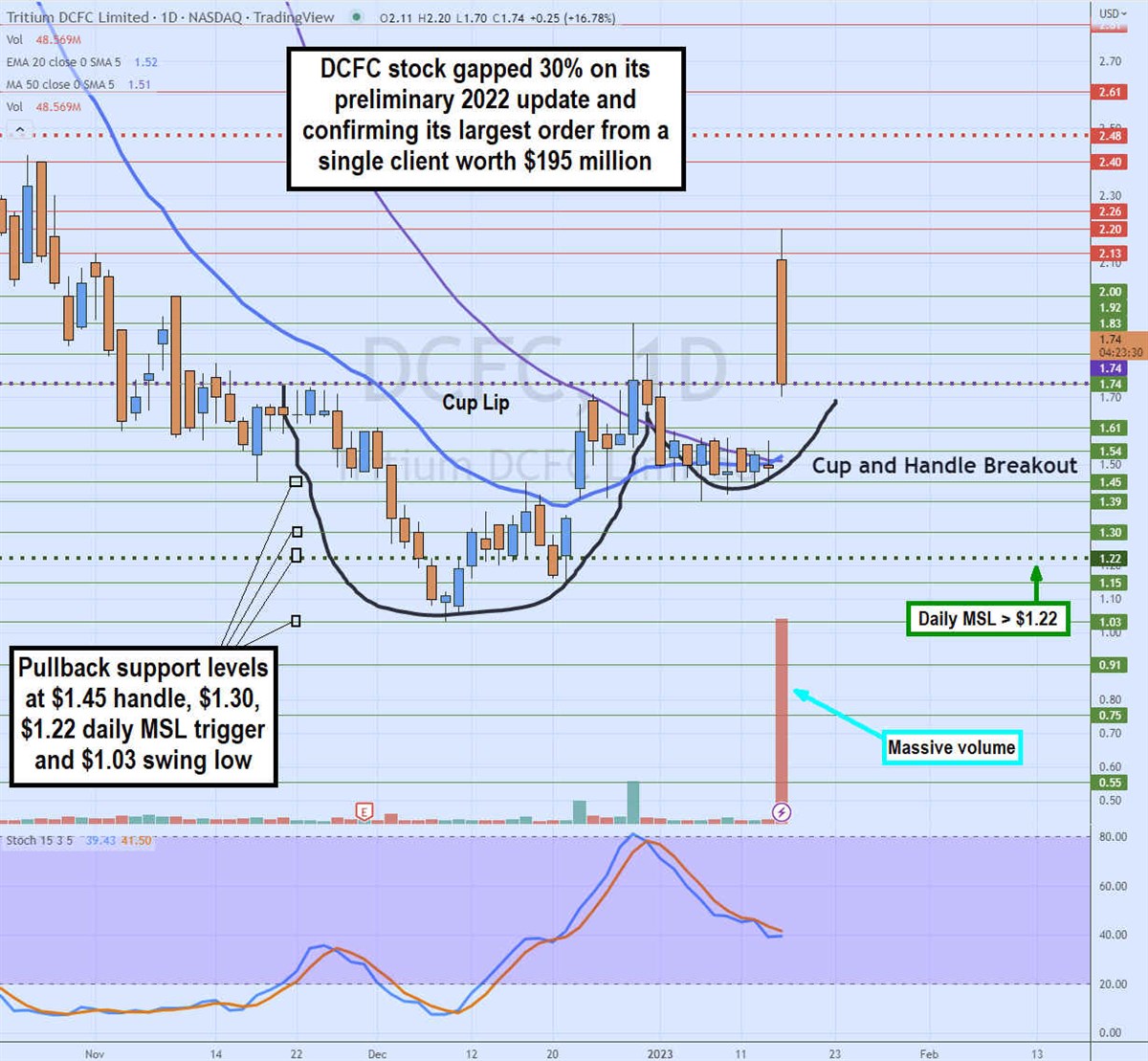 Cup and Handle Breakout
DCFC stock triggered a cup and handle breakout on the latest news and accompanying gap through the $1.74 cup lip. The stock established the lip in November 2022 as it cold off down to a $1.03 swing low before making a rounded bottom on the daily market structure low (MSL) buy trigger above $1.22, forming the cup as shares recovered back to the lip in late December 2022.
Shares failed to break out and retraced towards $1.39 to form the handle. The gap on the news completed the cup and handle pattern but needs to hold above the lip to maintain any follow-through.
The daily stochastic stalled on its fall near the 40-band. The weekly 20-period exponential moving average (EMA) at $1.52 attempts to cross up through the weekly 50-period MA at $1.51. Pullback support levels sit at the $1.45 handle, $1.30, $1.22 daily MSL trigger, and the $1.03 swing low.