(BPT) - Summer isn't done yet - there's still time to squeeze in one more epic adventure! Get ready to embrace the spirit of the season in the most unforgettable way possible: an incredible road trip.
The No. 1 rule of an unforgettable trip - knowing the journey is just as important as the destination. So, make sure your ride is on point to create those mind-blowing experiences you'll be bragging about for years to come. Let the drive take you places you never imagined and live your best life to the absolute max.
You might be wondering how to get started with the best road trip. As the most crucial snack on any road-tripper's packing list, Jack Link's® knows how to put together the best road trip possible. You can start by following these five essential tips that will make your road trip legendary.
1. Pick a destination that screams fun!
Whether you're flying solo, escaping with your fam or going on an adventure with your friends, you get to decide where the road will take you. Brainstorm some options and choose a destination that sets the vibe for an insanely good time.
Once you know where you're headed, plan out the route and all the stops you want to make along the way. We're talking gas stations with unique food options, unexpected detours that lead to unique experiences and quirky hangouts that give you a taste of the area's culture.
While Route 66 and Zion National Park are classic road trip destinations, try digging deeper to find those hidden gems that will blow your mind as fun detours along the way. Plan stops at places like vintage towns in Utah, the caverns of Lim Rock, Alabama, or the blue oasis springs in southern Idaho. You never know what cool places you can find when you're searching for new recommendations.
2. Snacks & goodies
Road trips and snacks are total BFFs. Pack all your favorite snacks and be ready to satisfy your hunger while you're on the move. Sweet, salty, savory, you name it - just make sure you've got enough so you don't get hangry.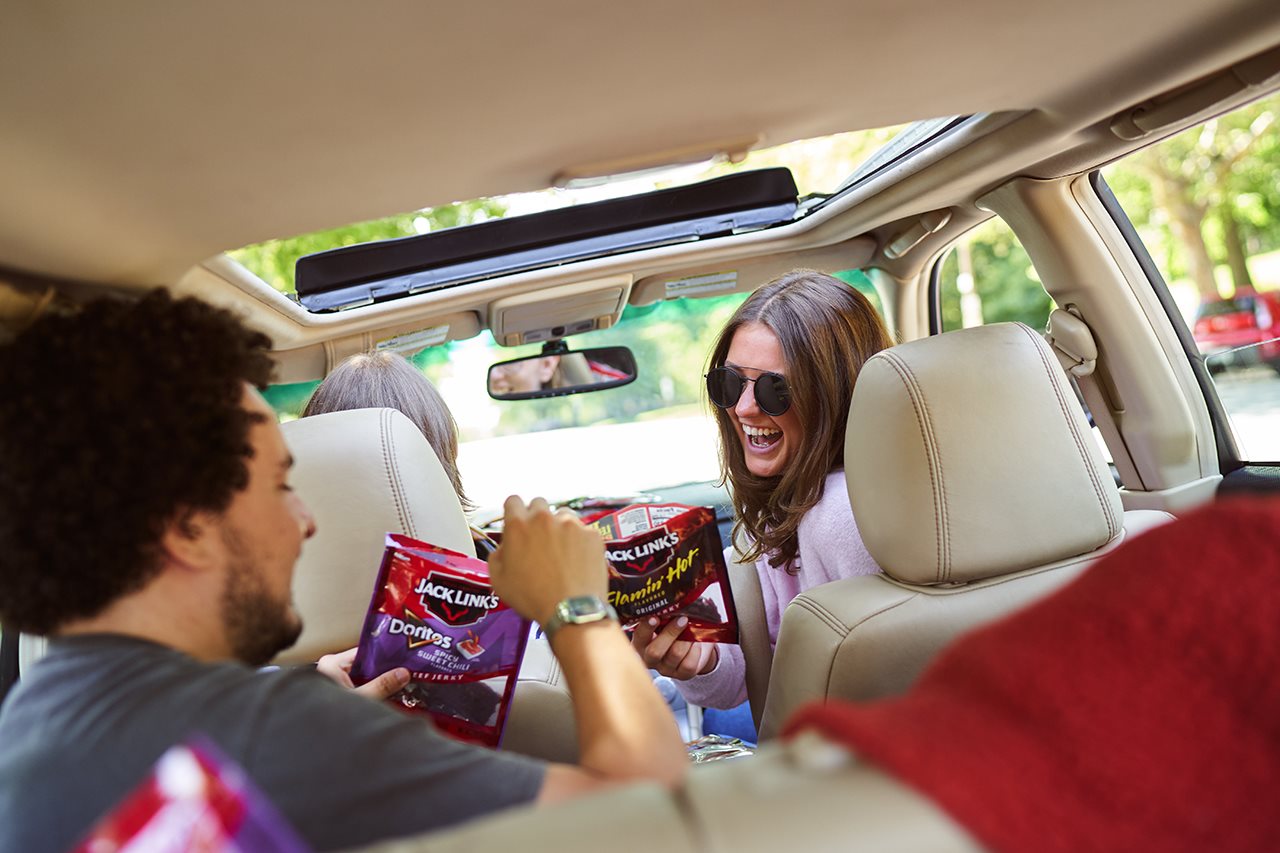 According to the U.S. Snack Index from Frito-Lay and Quaker, three in four people say road trips are a prime opportunity to try new snacks. If you're looking for the perfect grab-and-go option to level up your snacking experience on the road, check out new Jack Link's® Doritos® Spicy Sweet Chili and Flamin' Hot® Original flavored beef jerky and meat sticks from Jack Link's and Frito-Lay.
Both Jack Link's® Doritos® Spicy Sweet Chili and Flamin' Hot® Original flavored beef jerky and meat sticks are available for purchase online and at retailers nationwide. To learn more about this collaboration, the flavors and where to find them near you, visit jacklinksfritolay.com.
3. Get your wheels in tip-top shape
Now that you've got your destination and route locked down, it's time to give your wheels some serious TLC. Schedule an appointment to get your car road-trip ready with a tire rotation and oil change (because let's be real, when's the last time you actually did that).
Pay special attention to your air conditioning, especially during those scorching summer days. If your AC is acting up, sort it out before you hit the road. Everyone will appreciate the cool breeze as you carry on through your adventure.
And don't forget to pack all the back-up necessities. Umbrellas, first-aid kits, and jumper cables are musts, but to really up your travel game, don't forget your favorite water bottle, a packable cooler and portable phone chargers. Stash a few disposable cameras in the glove box to break out at the stops along the way to document your adventure. Once your car is good to go, you'll be able to focus on the fun at every turn for the ultimate unforgettable trip.
4. Have your playlist ready for the aux cord
Now that you've got your destination set, your wheels ready and your snacks loaded, it's time to crank up those tunes and rock out on the road. Before you head out, create a killer playlist that passes the vibe check for your entire journey.
Start with a mix of everyone's favorite artists and tunes and remember not to limit yourself to just one genre. Mixing it up with a variety of different artists helps to make even the longest of drives feel like they aren't long enough.
5. Let the good times roll
For lengthy road trips, keep the entertainment going with some fun games! Conversation starter packs are perfect for those long hours on the highway and can spark wild discussions you never saw coming.
A long road trip is also a great time to try out the new podcast your friend recommended that you haven't gotten around to yet or listen to an audio book you've been wanting to read. Become a true crime junkie or stay up to date with the latest news in pop culture, sports and celebrities. No matter what topic you're looking for, there's an option for everyone.
Above all else, remember that a summer road trip is all about having the time of your life. Enjoy every moment, soak up the beauty around you, have the best snacks in the car with Jack Link's and capture all the magical memories with tons of pictures. This is a once-in-a-lifetime experience, so make it count!