--News Direct--
A video accompanying this announcement is available at: https://youtu.be/8TiX7QwCt14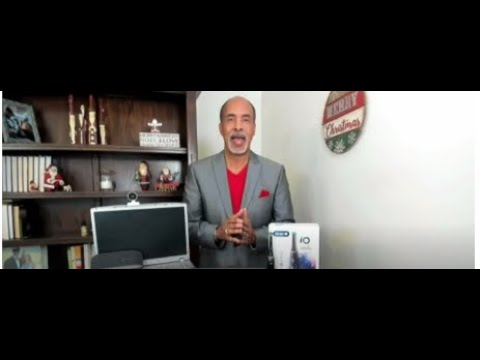 With the holiday hustle and bustle in full swing, many U.S. consumers are still struggling to find the perfect tech gifts for our loved ones. A new study from the Consumer Technology Association found that this season's tech sales will hit $142.5 billion. Tech Expert, Dave King has a few ideas to help shoppers score this year's hottest gadgets and gear.
TECH & SELF-CARE:
Tech has helped transform aspects of our daily lives, including fitness, productivity, and mindfulness. One area King is excited to talk about is oral care.
The Oral-B iO Series 8 combines powerful, but gentle micro-vibrations with a unique dentist-inspired round brush head design for a professional clean feeling every day. The Smart Pressure Sensor helps to keep people from brushing too hard to protect their gums and enamel. AI Recognition, plus an interactive display, helps guide brushers to their best clean for all areas of the mouth. A 2-minute quadrant timer comes built-in that pulsates every 30 seconds, ensuring a complete clean.
King adds, "The frictionless, smooth magnetic drive system transfers energy to the bristle tips for spectacular clean teeth."
The Oral-B iO Series 8 is available at oralb.com and all major retailers.
For more information, visit https://oralb.com/en-us/products/electric-toothbrushes/oral-b-io-series-8-electric-toothbrush-black-onyx/?utm_source=google&utm_medium=cpc&utm_campaign=&utm_term=&gclid=Cj0KCQjwtrSLBhCLARIsACh6RmiEbq-V4oACt4hbQA_DLBSabI5mKHcPOutf6QUoarstrWysIoViKx4aAroYEA.
Facebook: https://www.facebook.com/oralb
Instagram: https://www.instagram.com/oralb/
Twitter: https://twitter.com/OralB
UP YOUR PROFESSIONAL GAME WITH TECH GEAR:
All signs are pointing to remote work persisting and trending permanent for many American businesses. King says we've learned so much about managing hybrid and remote work over the past year-and-a-half. "At this point, it's really time to up our professional games to look and sound our very best," highlights King.
The tech expert recommends the Poly Studio P5 kit with Sync 20, a high-performance webcam optimized for video conferencing with 1080p resolution that works with any cloud-based video platform such as Zoom and Teams – paired with the Poly Sync 20 smart speakerphone to deliver a premium audio experience. This pro-grade kit is the perfect choice for the remote or hybrid worker in your life.
These tech items are available through Poly.com, Amazon, Best Buy, and other major retailers.
For more information, visit https://www.poly.com/us/en/shop/holiday-promotions.
Facebook: https://www.facebook.com/PolyCompany/
Twitter: @PolyCompany
Instagram: @PolyCompany
Hashtags: #PolySync #PolyStudio
UPGRADE - FOCUS ON PRODUCTIVITY & EFFICIENCY:
King says there are other ways tech can be used to increase work from home productivity and efficiency. One of his top recommendations is to upgrade everyday gadgets to something special.
One of the tech expert's favorite finds is the Happy Hacking Keyboard (HHKB) from Fujitsu Computer Products of America. He says it has an incredible following of loyal programmers, developers, and coders all over the world. "I like it's compact, highly-customizable design and connectivity options," adds King.
The HHKB comes in three different models, two different colors — ivory and charcoal, and with either stamped or blank keys. One keyboard King highlights is the Professional HYBRID Type-S. "This keyboard is ideal for people working from home, programmers, and all computer pros. Its exclusive use of Topre silent switches provides supreme tactility, extra comfort and keystroke precision eliminating keyboard clacking," King continues, "It's also compact — 60% of the size of standard keyboards — and features Bluetooth compatibility so users can connect to smartphones, tablets and more."
The Professional HYBRID Type-S is available on Amazon.com or at HHKeyboard.us.
For more information, visit https://hhkeyboard.us/.
Facebook: https://www.facebook.com/hhkbUS/
Instagram: https://www.instagram.com/hhkb_realforce_us/
Twitter: https://twitter.com/HHKB_RF_US
RESEARCH & REVIEW:
A record 191 million U.S. adults plan to purchase tech items this holiday season. King says consumers can make sure they're getting the right gift at the best price. Another one of his recommendations is to stay calm and focused. Additionally, it's important to rely on great reviews to manage shopping expectations.
King turns to the community at Slickdeals. "No one is selling anything. The service is about shoppers helping shoppers," says the tech expert. "It's the only shopping platform powered by millions of real people who are out there discovering, sharing, and vetting the best deals."
The site, apps, browser extension, and new loyalty program have millions of users who connect and discover the very best deals from all the top retailers, like Walmart and Amazon. King says this is important, "So you can know if you're actually getting the best product at the best price," adding, "It's like having 12 million friends help you understand where the best deals on the best products are happening. If you're shopping for something specific, set a deal alert, so you're notified when something matching your criteria gets posted."
To find reviews, go to https://slickdeals.net/.
Social Media Channels: @slickdeals
About YourUpdateTV:
YourUpdateTV is a social media video portal for organizations to share their content. It includes separate channels for Health and Wellness, Lifestyle, Media and Entertainment, Money and Finance, Social Responsibility, Sports and Technology.
Contact Details
YourUpdateTV
+1 212-736-2727
View source version on newsdirect.com: https://newsdirect.com/news/hi-tech-holiday-gift-guide-569836136