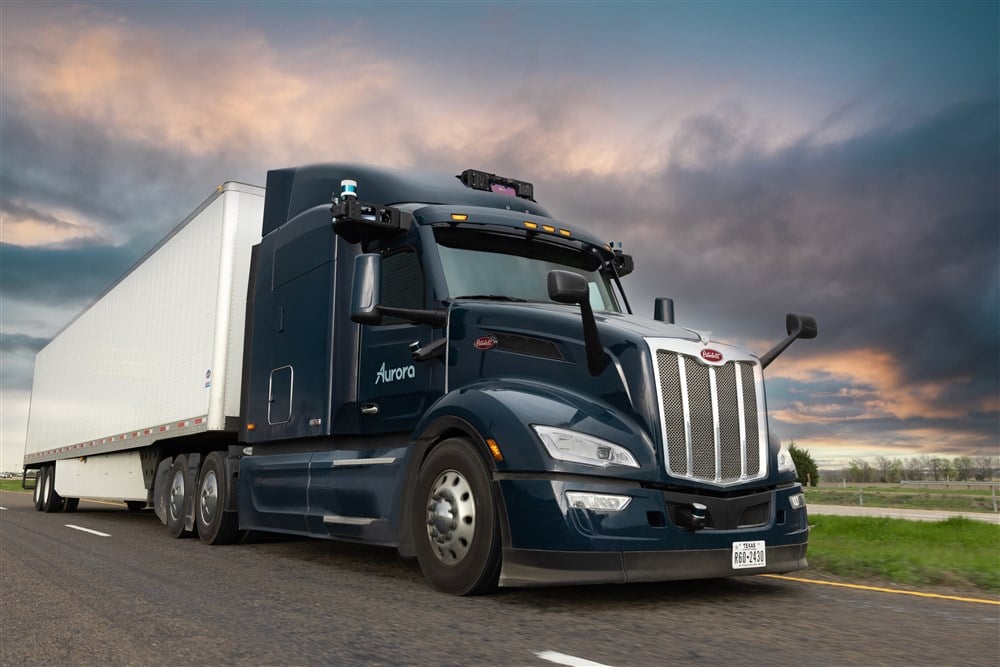 Like the classic Willie Nelson song, self-driving technology company Aurora Innovation, Inc. (NASDAQ: AUR) is "on the road again." 
The former SPAC winner turned penny stock loser is up 131% this year after more than doubling last month. The gains are being driven by the market's heartier risk appetite and a series of bullish events. 
On June 16th, the Pittsburgh-based company released an open-source, multi-sensor autonomous driving dataset as part of a project with the University of Toronto. The release of the data, which was obtained from the acquisition of Uber's Advanced Technologies Group, is intended to help the field's academic leaders research 3D reconstruction, HD map construction and other industry-shaping technologies. From an investor perspective, the move exerts Aurora's leadership in the transparent development of safer, more efficient self-driving systems for freight trucks and passenger vehicles.
Aurora then got a boost from Russell's annual index reconstitution. The closely watched market event redefines the breakpoints for large, mid and small cap to capture an accurate representation of the U.S. stock universe. As part of the re-ranking process, Aurora was added to the Russell 3000, making it one of the country's 3,000 largest publicly traded companies. Since many exchange traded funds (ETFs) and mutual funds are benchmarked to the index, this sparked a ton of buying activity as portfolio managers rebalanced to reflect the changes. The 41.3 million shares exchanged on June 23rd (the final trading day before the reconstitution went into effect) was the highest daily volume in Aurora's history.
Is Wall Street Bullish on Aurora Innovation?
In addition to these catalysts, Aurora has benefited from supportive Wall Street commentary. Around the same time as the Russell 3000 event, Canaccord Genuity reiterated its Buy rating and ambitious $5.00 price target. Last week, D.A. Davidson also called the former $17 stock a Buy. Goldman Sachs, the only other firm that covers Aurora, has a Hold rating but hasn't offered an update since May's first quarter financial update.
It's easy to understand why analysts are mostly bullish on Aurora's longer-term growth trajectory. From passenger ride-hailing to commercial delivery to defense applications, semi- and fully-autonomous vehicles are expected to be the future of transportation. Cars and trucks equipped with artificial intelligence (AI), advanced sensors and high-tech communication systems are lining up to enhance mobility like never before. The heavy-duty autonomous vehicle market alone is forecast to grow more than tenfold in the next 10 years.
The Aurora Driver self-driving system, along with the Aurora Horizon and Aurora Connect driver-as-a-service offerings, could play a major role in this transportation revolution. The company has surrounded itself with a wide range of industry partners including automakers (Toyota, Volvo, Paccar), trucking companies (U.S. Express, Schneider, Ryder) and delivery service providers (FedEx, Uber) to improve its chances of success.
What Do Aurora Innovation's Technicals Suggest?
Long a sight for sore eyes, Aurora's daily chart is starting to have much better optics. For starters, last month's huge volume spike bodes well for a longer-term uptrend, especially if the ripple effects of the Russell 3000 inclusion persist. 
Second, the volume surge propelled the stock past 250-day resistance at $2.88. If it can keep its head above this key water level, the next major resistance line is nautical miles away. Aurora's 500-bar resistance of $9.91 dates back to its early SPAC days.
As April's classic 'head and shoulders' bottom pattern continues to play out, another bullish chart pattern has emerged. Aurora's 50-day moving average line has overcome its 200-day moving average — and again, in convincing volume. The popular 'life cross' pattern may finally be ushering in a long-awaited uptrend.
The cherry on top is Friday's 'hammer' candlestick that formed when the stock dipped as low as $2.53 before closing at $2.80 — near the top of the day's trading range ($2.84). This bullish pattern shows that buyers were quick to swoop in during the downturn and overpower sellers. It could mean that the stock has reached a bottom and will continue to trend higher near-term.
Regardless of where Aurora heads in the short term, the long-range growth outlook is clear. The fog may finally be lifting for autonomous vehicle stocks. Aurora bulls "just can't wait to get on the road again."