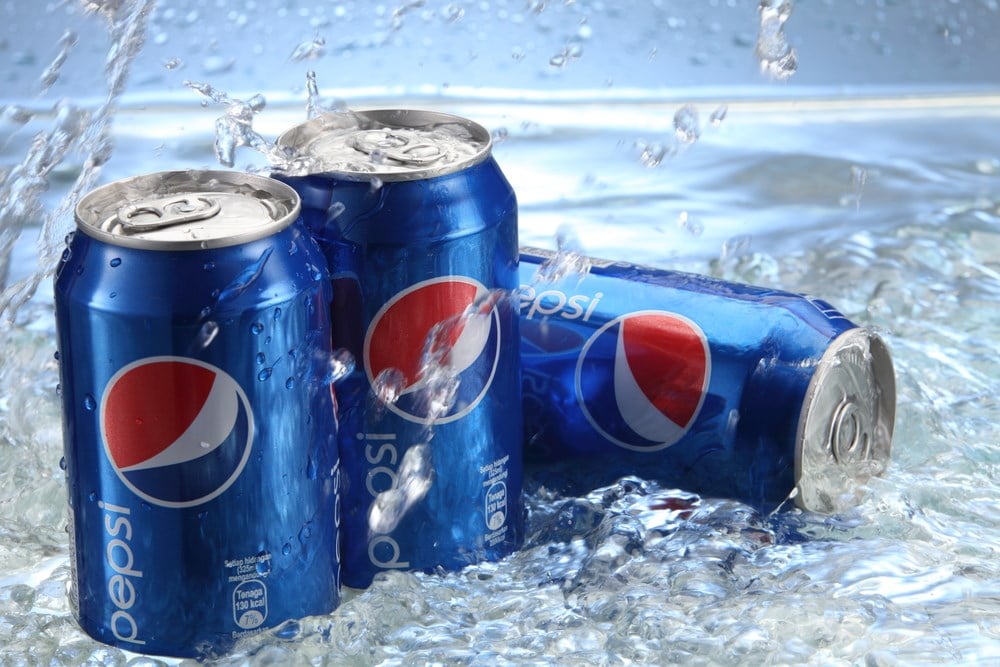 PepsiCo Inc. (NYSE: PEP) stock spiked to a new all-time high at $196.88 on its Q1 2023 earnings release before topping out and selling off on profit taking to $179.33. Shares are starting to rebound again, suggesting another leg up may be forming. Pepsi products are commonly found in grocery stores, convenience stores and warehouse clubs.
It may be surprising to some just how many familiar brands it actually owns, often competing with other prominent players in the segments, including Monster Beverage Co. (NASDAQ: MNST) with its Amp and Rockstar energy drinks and Mondelez International Inc. (NASDAQ: MDLZ) with its various snack brands like Cheetos, Fritos and Doritos. The company is experiencing inflation deflation from U.S. Fed's aggressive interest rate hikes, but costs are not reducing. However, the company buys commodities nine to 12 months out. PepsiCo had expanded its gross margins by 110 bps beating rival The Coca-Cola Company's (NYSE: KO) 40 bps expansion.
Broad Portfolio
PepsiCo has come a long way in growing its brand portfolio. It's not just soda. Pepsi has a foothold in various food and beverage categories. Some popular brands in its beverage portfolio include Pepsi, Mountain Dew, 7UP, Sierra Mist, Tropicana and Mug Root Beer. Its energy drinks include Gatorade, Propel, Rockstar, Amp, Bang and Gatorade. Its snack food brands include Cheetos, Cracker Jack, Doritos, Fritos, Lay's, Ruffles, Stacy's, Smartfood, Sun Chips and Tostitos. Packaged food brands include Quaker, Cap'n Crunch, Grandma's, Life, Naked and Rice-A-Roni.
Running On All Cylinders
On April 25, 2023, PepsiCo released its fiscal first-quarter 2023 results for the quarter ending March 2023. The company reported an earnings-per-share (EPS) profit of $1.50 versus $1.39 consensus analyst estimates, a $0.11 beat. Revenues rose 10.2% year-over-year (YoY) to $17.85 billion, beating consensus analyst estimates for $17.27 billion. Total beverage volume rose 1% YoY. Convenient foods volume fell (3%) YoY. PepsiCo's price hikes had a 16 bps positive impact in the quarter. The China re-opening should act as a tailwind. Non-GAAP margins were expanded to 110 bps.
PepsiCo CFO Hugh Johnston commented on the drop in snack food volume, "Just for clarity, in terms of the snack food or the community food volume, Pioneer was a big driver of that. There are challenges with the power grid down in South Africa. And obviously, Pioneer makes a lot of heavy products."
Raising Full-Year 2023 Guidance
PepsiCo raised its organic growth revenues to 8%, up from 6% and up 9% core constant currency EPS growth from 8%. It expects fiscal full-year 2023 EPS of $7.27, up from $7.20 versus $7.26 consensus analyst estimates. Based on current market consensus rates, the company expects a 2% FX impact headwind on its net revenue and core EPS growth.
It also expected full-year 2023 cash returns to shareholders of around $7.7 billion, comprised of $6.7 billion in dividends and $1 billion in stock buybacks.
CEO Insights
PepsiCo CEO Ramon Laguarta addressed a question about the U.S. beverages competition during the conference call, "…we see the momentum in the beverage category, very strong in terms of demand. We're seeing away from home, very strong. We're seeing the convenience channel very strong, and we're seeing most of the in-home channels also quite strong. So we don't feel that there is a competitive environment that is getting worse in beverages." He noted the one-off with Gatorade switching from a  warehouse system to a direct-store-delivery (DSD) system that would result in some overall inventory reduction.
B.Riley Securities Coverage  
On June 2, 2023, the shares of Bowlero received a Buy rating from B.Riley Securities with a price target of $18. The firm believes Bowlero will continue to grow its market share in the fragmented "old school" bowling center industry. Analyst Eric Wold says the post-earnings sell-off was an overreaction, and its stock is pricing in mid-teens SSS decline through fiscal 2024.
PepsiCo analyst ratings and stock price targets are at MarketBeat.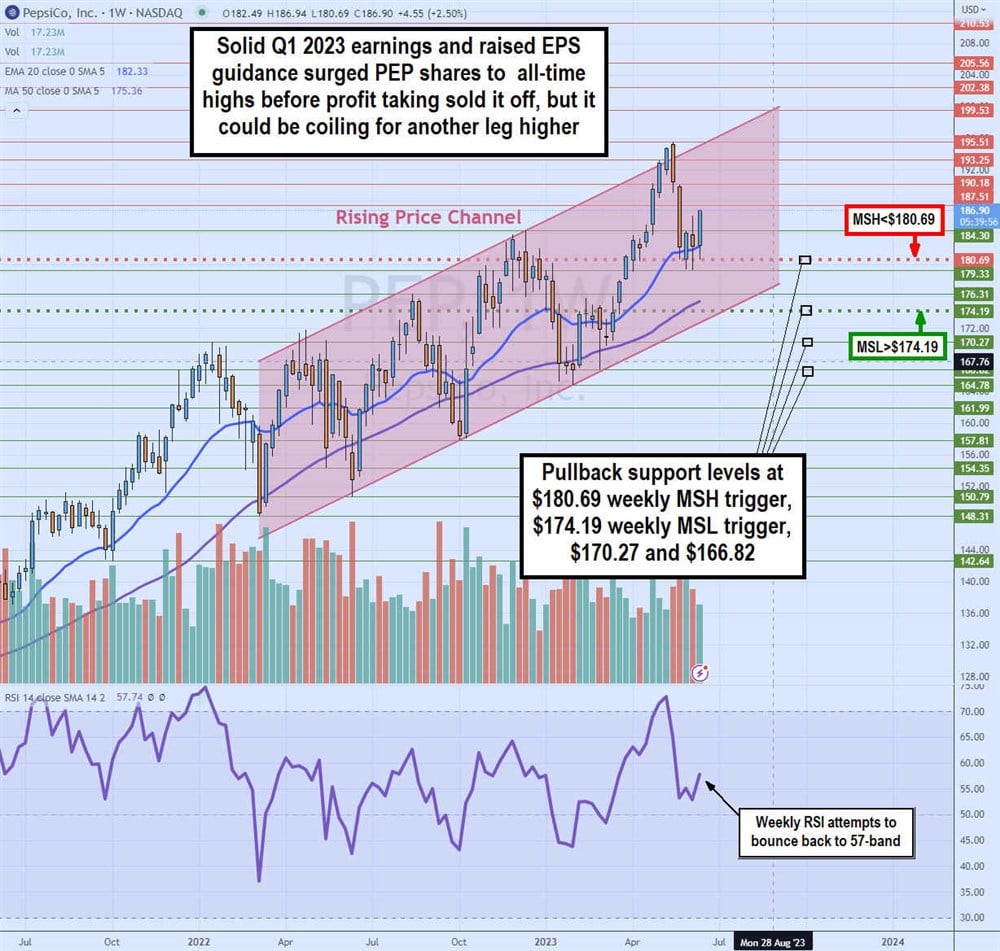 The definitive beginner's guide to reading stock charts can be found free on Marketbeat.
Weekly Rising Price Channel 
The weekly candlestick chart on PEP has a rising price channel that commenced after bouncing off the $148.31 swing low in March 2022. PEP shares made higher highs on bounces, followed by higher lows on sell-offs. It accelerated higher on the weekly market structure low (MSL) trigger breakout at $174.19. on sell-offs forming a parallel rising channel that peaked at $195.51 after it reported its Q1 2023 earnings and raised its guidance.
This caused the relative strength index (RSI) to spike up to the oversold 73-band before reversing sharply back under the 70-band upon triggering the weekly market structure high (MSH) sell-off at $180.69. The weekly 20-period exponential moving average (EMA) is attempting to hold support at $182.35, followed by the weekly 50-period MA at $175.36 as PEP is attempting to bounce off the 53-band. Pullback support levels are at