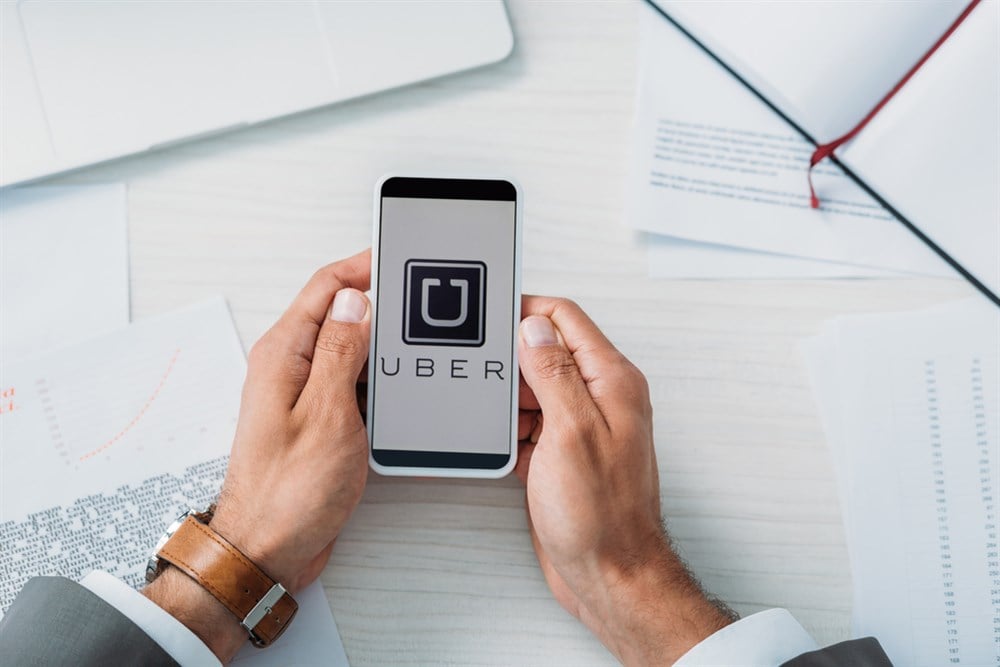 The sentiment for Uber Technologies Inc. (NASDAQ: UBER) is positive more than ever as the company continues to break records in its quest to reach operational GAAP profitability. The robust travel demand has been a boon for Uber, just like for airline stocks like United Airlines Holdings Inc. (NYSE: UAL) and Delta Air Lines Inc. (NYSE: DAL). While the company technically reached GAAP profitability in Q4 2022, it did so due to a $756 million non-cash net benefit from unrealized gains in its equity investments, not on an operational basis. For that reason, shares peaked at $37.58 and eroded to a low of $29.22 two months later.
Uber reported a robust Q1 2023, flexing its dominance over rideshare competitor  Lyft Inc. (NASDAQ: LYFT). Uber Eats competes with food and grocery delivery services Door Dash Inc. (NASDAQ: DASH) and Grub Hub. Uber shares gapped up again to the $37.58 area. However, this time the shares broke out even higher as buyers continued to accumulate shares as the market prices in the genuine prospect of operational GAAP profitability.
Uber One
Uber is growing its $9.99 monthly Uber One membership program. It provides 5% off eligible rides and delivery. Members receive priority service with top-rated drivers and an unlimited $0 delivery fee on $15+ food orders and $30+ grocery orders. Membership also comes with special promotions, offers and perks.
Uber One savings grow as you spend more money on Uber services. Uber One members spend 4X more than non-members, with a 15% higher retention rate. Uber One members accounted for 27% of its Mobility segment. Uber plans to offer more features to accelerate its growth.
Another Blowout Quarter
On May 2, 2023, Uber reported a Q1 2023 GAAP earnings-per-share (EPS) loss of ($0.08) versus consensus analyst estimates for a loss of ($0.09), beating estimates by $0.01. Net losses shrank to ($157 million), which includes $200 million in pre-tax net unrealized gains stemming from the reevaluation of equity investments.
This significantly improved from the net loss of ($1.1 billion) in the year-ago period. Revenues rose 29% YoY to $8.82 billion versus $8.71 billion consensus analyst estimates. Gross bookings grew 19% YoY to $31.4  billion. Mobility saw gross bookings jump 40% YoY to $15 billion and 43% in constant currency.
Delivery gross booking rose 8% YoY to $15 billion or 12% in constant currency. Total trips rose 24% YoY to 2.1 billion or 24 million trips daily. Adjusted EBITDA grew to $761 million, from $593 million last year. Adjusted EBITDA margin as a percentage of gross bookings rose to 2.4% from 0.06% in the year-ago period. Active riders rose 12% YoY to 111 million. Active eaters grew 13% to 67 million. The Company ended the quarter with $4.2 billion of cash and cash equivalents.
Raised Guidance
Uber CEO Dara Kosrowshahi commented, "We significantly accelerated Q1 trip growth to 24% from 19% last quarter, with Mobility trip growth of 32%, due to improved earner and consumer engagement. Looking ahead, we are focused on extending our product, scale and platform advantages to sustain market-leading top and bottom-line growth beyond 2023." Uber expects Q2 2023 gross bookings of $33 billion to $34 billion and adjusted EBITDA of $800 million to $850 million.
Analyst Upgrades
Susquehanna raised its rating on Uber to Positive. Analyst Syam Patil commented, "UBER posted another nice quarter, as the company is seeing continued solid top-line traction while demonstrating discipline on the cost side. It's clear the company's positioning continues to strengthen while simultaneously showing improving operating leverage."
BTIG reiterated their Buy rating noting the strength in mobility and delivery booking and aggressive bookings forecasts for the year. Uber analyst ratings and price targets can be found on MarketBeat.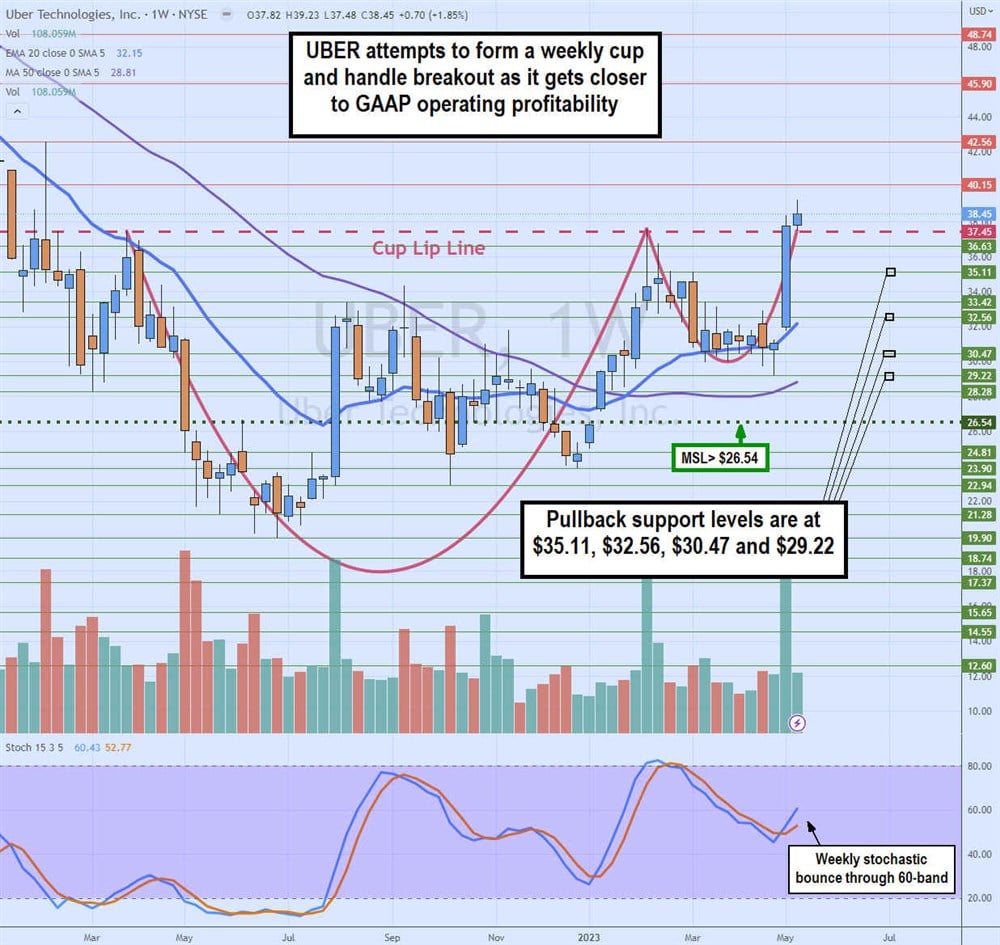 Weekly Cup and Handle Breakout  
UBER formed a cup and handle breakout on the weekly candlestick chart. The cup lip line was formed at $37.45 in March 2023 as shares collapsed to a low of $19.90 in June 2022. The weekly market structure low (MSL) breakout triggered above $26.54, sending shares up to retest the cup lip line in February 2023.
Shares pulled back to form the handle bottoming at $29.22. Its Q1 2023 earnings strength extended the handle up through the cup lip line fueling the breakout for new swing highs. The weekly stochastic crossed up through the 60-band. Pullback support levels are at $35.11, $32.56, $30.47 and $29.22.