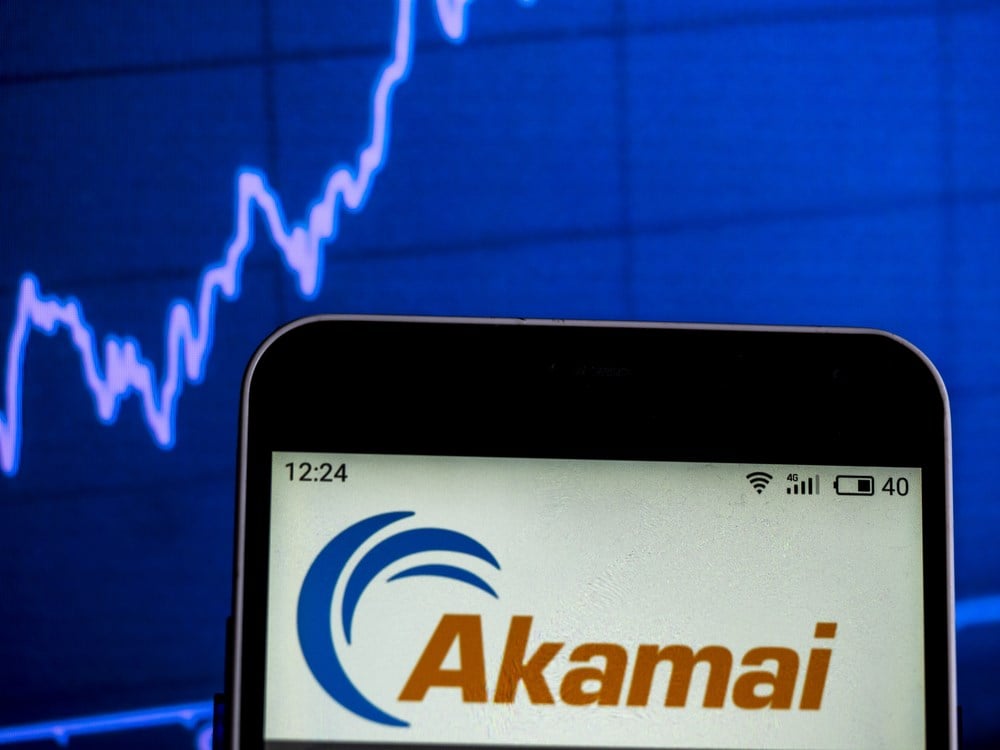 Cloud services and content delivery network (CDN) operator Akamai Technologies Inc. (NASDAQ: AKAM) had substantial profits driven by record security services in Q1 2023. Its legacy content delivery network (CDN) comprises more than 300,000 servers in over 135 countries enabling oceans of data, video and web content to stream with reliability and speed. CDNs are essential for media and technology companies.
Akamai's CDN customers include The Walt Disney Company (NYSE: DIS), Netflix Inc. (NASDAQ: NFLX), Microsoft Co. (NASDAQ: MSFT), International Business Machines Co. (NYSE: IBM), Apple Inc. (NASDAQ: AAPL), and Adobe Inc. (NASDAQ: ADBE). Its cloud and security services are the growth drivers, while its legacy CDN delivery services are a cash cow. Its CDN business enables growth with its security and compute business as customers discover these additional value-added services. Akamai is gaining traction with its security segment, closing customers that don't use its CDN. 
Growth in Security Services
Akamai entered the cybersecurity and network security segment over a decade ago. Since then, the segment has grown both organically and through acquisitions. The company acquired the AI-powered SaaS security platform Neosec. It actively hunts threats using artificial intelligence (AI) based behavioral analytics to find APIs and identify and defend vulnerabilities against attacks.
Akamai plans to take to market immediately to provide a service for customers that don't use its CDN services. It joins its previous acquisition Guardicore, a ransomware protection solution, as part of its security suite. Guardicore closed new contracts with one of the largest European banking groups and one of its largest airlines in Q1.
Compute Services
Its compute division provides serverless and edge computing and Kubernetes-as-a-service (KaaS). KaaS enables companies to manage and deploy cloud applications worldwide on Akamai's decentralized edge servers. This is crucial for live and real-time applications like gaming, IoT and video streaming.
Beat and Guide
On May 9, 2023, Akamai released its Q1 2023 earnings for March 2023. The company reported earnings-per-share (EPS) profits of $1.40, beating consensus analyst estimates of  $1.32 by $0.08. GAAP net income was $97 million, down (27%) YoY. Non-GAAP income was $218 million, down (3%) YoY. Revenues grew 1.4% year-over-year (YoY) to $916 million, beating $912.13 million consensus analyst estimates. U.S. revenues fell (1%) YoY to $474 million, while international revenues rose 5% to $442 million. Akamai had $45 million in restructuring charges in the quarter, primarily for severance costs related to its workforce reduction plan. The company ended the quarter with $1.1 billion in cash and marketable securities.
Revenues by Segment
Its legacy business continues to fall, but it's benefiting from legacy clients adding new services. Security revenues rose 6% YoY to $406 million. Compute revenues rose 49% to $116 million. Delivery CDN revenues fell (11%) YoY to $394 million. Security and Compute revenues represent 57% of total revenues and rose 13% YoY.
Akamai CEO Dr. Tom Leighton commented on the synergy that still exists with its legacy delivery business, "The synergy is both on the top-line, as long-time delivery customers buy our security and compute products and also on the bottom line as we realize the cost benefits of using a single infrastructure to provide security and compute services as well as delivery."
Upside Guidance
Akamai raised its Q2 2023 EPS guidance to $1.38 to $1.42 versus $1.35 consensus analyst estimates. Revenues for the second quarter are expected between $923 million to $937 million versus $920.4 million analyst estimates.
Akamai raised its full-year 2023 EPS guidance to $5.69 to $5.84 versus $5.48 consensus analyst estimates. Full-year 2023 revenues are expected between $3.74 billion to $3.785 billion versus $3.73 consensus analyst estimates. Akamai will also be cutting 3% of its workforce in Q2 2023.
Akamai Technologies analyst ratings and price targets can be found at MarketBeat.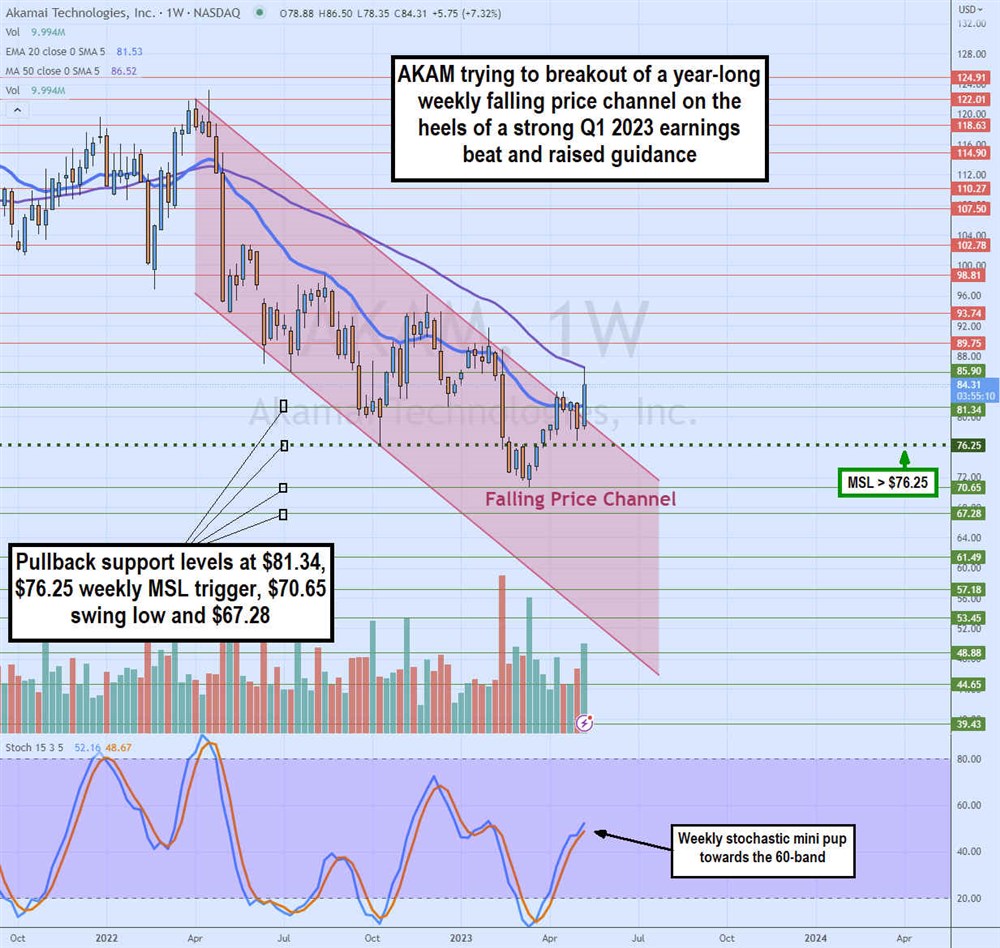 Weekly Falling Price Channel Breakout
AKAM has been in a weekly falling price channel since peaking at $122.01 in April 2022. Shares had a downward trajectory, making lower highs and lower lows until forming a swing low of $70.65 in March 2023. It triggered a weekly market structure low (MSL) breakout through the $76.25 as the weekly stochastic bounced through the 20-band and continued to mini-pup towards the 60-band.
The weekly 20-period exponential moving average (EMA) is $81.56, and the 50-period MA resistance is $86.53. AKAM attempts to break out of the falling price channel on the momentum from its Q1 2023 earnings report. The weekly stochastic is attempting to mini-pup towards the 60-band. Pullback support levels are $81.34, $76.25 weekly MSL trigger, $70.65 swing low and $67.28.