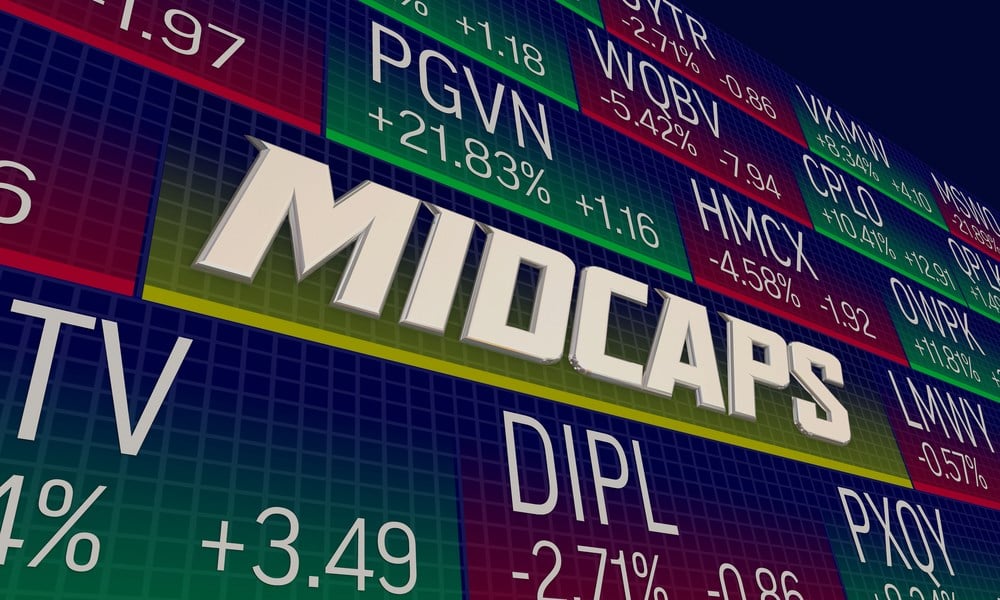 In the stock market, big hits have been more challenging to uncover, including among the best mid-cap stocks. 
Over the past 12 months, less than 1% of some 6,600 U.S. stocks have doubled or better. Macro and geopolitical pressures have been largely to blame, with the S&P 500 down 12% in this span.
Among the top 1% of one-year outperformers, the vast majority are lesser-known micro- and small-caps. Many are biotechnology companies. Mid-caps e.l.f. Beauty Inc. (NYSE: ELF), Super Micro Computer Inc. (NASDAQ: SMCI) and Scorpio Tankers Inc. (NYSE: STNG) are exceptions to both.
A mid-cap stock doubling in 12 months requires an exceptional catalyst, a stroke of good fortune or both. Since Wall Street relatively well follows such stocks, they are less susceptible to big surprises.
Mid-cap two-baggers over one year are rare. Yet analysts are predicting that these three companies have what it takes.
Does Sunrun Have a Bright Outlook? 
Sunrun Inc. (NASDAQ: RUN) is a former $100 stock trading under $20 per share. The residential solar energy company has lost market support over the last two years over worries that inflation and higher financing rates will cause consumers to pare back discretionary purchases like home solar systems. Lingering supply chain constraints have also been a concern.
It has yet to lose the support of sell-side research firms, which remain mostly bullish on the name. On top of the long-term secular shift towards clean energy alternatives, analysts liked what they heard in Sunrun's fourth-quarter report. Solar-installed capacity grew 25%, and net subscriber value climbed to $16,569. 
Net subscriber refers to the value of new solar subscribers' upfront and future cash flows, less operating expenses and capital expenditures. It is an important metric in the solar industry because it reflects how much a company generates from each new customer relative to its spending. 
Since the February 22 report, eight analysts have given Sunrun 12-month price targets in the $33 to $65 range. Seven consider the stock a buy. The group's average target of $42.13 equals a 135% upside.
Will Analysts Agree With Goldman's Luminar Downgrade?
Earlier this month, Goldman Sachs downgraded the light detecting and ranging (lidar) maker Luminar Technologies Inc. (NASDAQ: LAZR) to "sell," which slapped a bruising $5 target on the stock. The analyst there criticized the company's revenue per vehicle target of approximately $1,000, saying it implied an unjustified 50% to 100% higher sales price than its main competitors. 
Management quickly pushed back, releasing a shareholder letter last week that defended its premium pricing. CFO Tom Fennimore noted that the average selling price (ASP) used in its forecast is based on actual customer contracts over the past decade. He also mentioned the potential for new software and insurance revenue streams and the company's industry leadership.
Goldman's bearish stance followed largely bullish opinions from Luminar's fourth-quarter business update. After reporting $40.7 million in 2022 revenue at the low end of guidance, management touted an expectation of at least 100% revenue growth this year. Most firms bought in, including J.P. Morgan, which gave Luminar a $24 target. 
Lidar technologies will undoubtedly play a major role in the future of auto manufacturers because of their safety and autonomous driving benefits. Will Luminar be a major winner? Goldman is detecting it won't. But even with its lowball target, the consensus target of $14 gives Luminar two-bagger potential.
Is the New Fortress Energy Selloff an Opportunity?
A month ago, New Fortress Energy Inc. (NASDAQ: NFE) announced that revenue grew 79% and earnings per share more than doubled in 2022. The results were bolstered by record-high global demand for liquid natural gas (LNG). Yet the stock sold off because the market was hoping for more and has since trended lower alongside falling natural gas prices. Wall Street sees this as an opportunity, and it's easy to understand why.
In its latest Gas Market Report, the International Energy Agency (IEA) forecast that 2023 natural gas demand will be flat but that a high level of uncertainty holds the potential for a surprise. The biggest wildcard is LNG demand from China, the world's largest natural gas importer. Depending on the pace of economic recovery, China demand could grow as much as 35%. This could mean big upside for natural gas prices and New Fortress Energy's financial results.
Eight analysts have offered opinions on the roughly $27 stock since the fourth quarter report, seven of which are bullish. The average price target since then has been $54.50, making New Fortress a mid-cap energy play that may outshine others by this time next year.