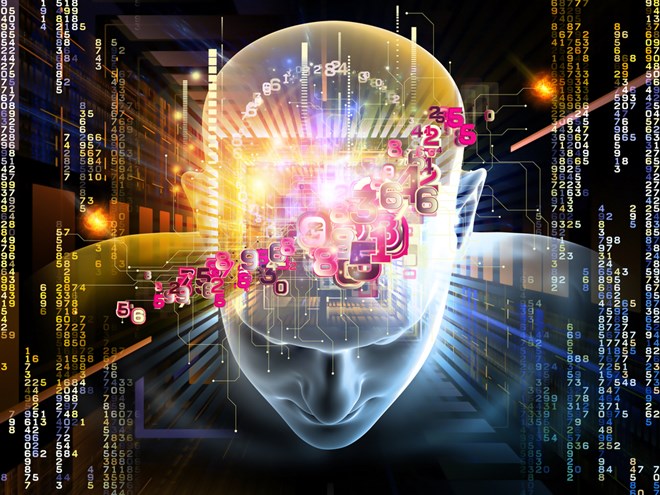 Enterprise artificial intelligence (A.I.) powered search platform provider Yext Inc. (NASDAQ: YEXT) stock has been rising as it implements its restructuring program. The Company uses AI-powered search technology to deliver relevant answers about its client's companies to customers, workers, and partners.
It collects and organizes content about a company into a knowledge graph to leverage the Answers Platform to deliver relevant and actionable answers everywhere. These endpoints include mobile apps, search engines, social media, chatbots, intranets, customer portals, and websites.
Thousands of organizations globally utilize the platform to distribute information about their business from a single platform. The platform is connected to many major networks, including Apple Inc (NASDAQ: AAPL) Business Connect, Microsoft Co. (NASDAQ: MSFT) Bing, Alphabet Inc. (NASDAQ: GOOGL) Google, and Amazon.com Inc. (NASDAQ: AMZN) Alexa. Some well-known corporate brands using the Yext platform include Samsung, Verizon, Campbell's, Subway, and Lego.
Growth Slowdown
On Nov. 30, 2022, Yext released its fiscal third-quarter 2023 results for the quarter that ended in October 2022. The Company reported an earnings-per-share (EPS) profit of $0.02 versus a loss of ($0.01) consensus analyst estimates, a $0.03 beat. The Company had a net loss of (-$12.3 million) compared to ($24.9) million in the year-ago period. Non-GAAP net income was $2.5 million versus ($5.5 million) in the year-ago period. Revenues fell (0.2%) year-over-year (YoY) to $99.3 million, missing analyst estimates of $99.63 million.
Annual run rate (ARR) rose 1% YoY to $390 million compared to $387 million in the year-ago period. Nearly $12.4 million was the negative impact of a strong U.S. dollar. The Company closed the quarter with $162 million in cash and cash equivalents and unearned revenues of $153 million at quarter's end. The remaining performance obligation (RPO)  was $365 million, with $313 million expected to be recognized over the next 24 months.
Yext CEO and Chairman Michael Walrath commented, "Our value proposition resonates with customers across various verticals, including financial services, healthcare, government, e-commerce and hospitality. While we continue to look for ways to further optimize our efficiency, we are now operating from a position of improved strength. We are confident in our ability to deliver responsible, sustainable growth."
Mixed Guidance 
Yext expected Q4 2022 EPS of $0.02 to $0.03 versus $0.01 consensus analyst estimates. It sees revenues of $100 million to $101 million versus $101.44 analyst estimates. The full-year 2022 revenue is projected between $399 million to $400 million versus $400.74 million analyst estimates. Non-GAAP net loss is expected between (-$0.05) to (-$0.04) versus (-$0.09) consensus analyst estimates.
Restructuring Program
On Jan. 24, 2023, Yext indicated an 8% layoff of its workforce from 1,400 to 1,100 workers as part of its restructuring program in a regulatory filing. The cuts will come from its sales and customer service divisions. It will also integrate a new cost structure removing layers of management.
Yext will take a $2 million restructuring cash charge for Q4 2022. It made no changes to its Q4 2022 guidance. As has been the trend lately, the layoff announcement resulted in shares rising nearly 2%.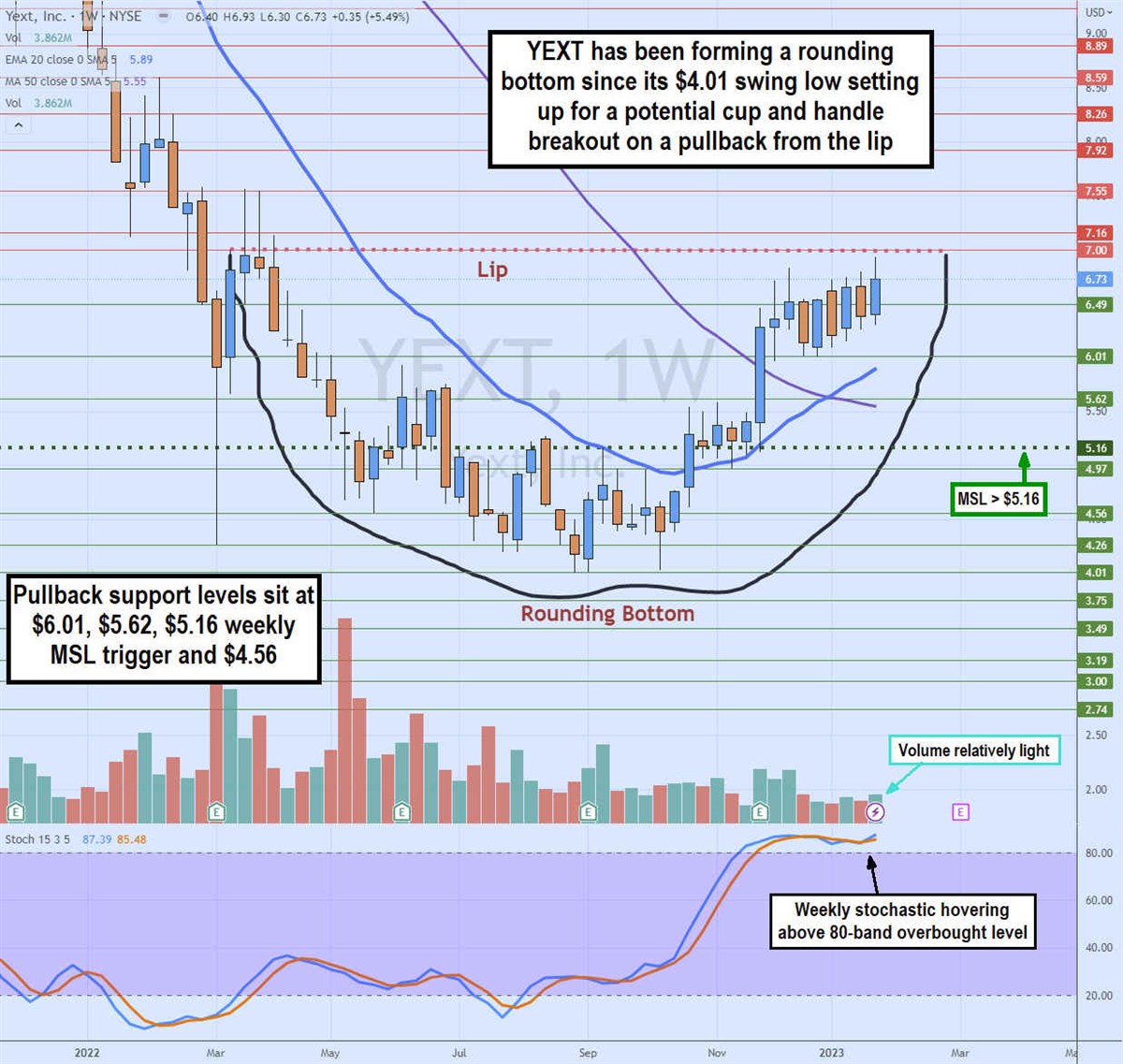 Weekly Lip Line Breakout or Cup and Handle
YEXT weekly candlestick chart illustrates a rounding bottom formation since peaking at $7.55 in March 2022 and falling to a low of $4.01 in August 2022. Shares started to make higher lows until triggering the weekly market structure low (MSL) breakout above $5.16.
The weekly stochastic formed a mini pup driving up shares higher as stochastic blasted through the 80-band overbought level, where it has hovered since late November 2022.
The weekly 20-period exponential moving average (EMA) support has crossed through the 50-period M.A. and is rising at $5.89. The lip line of the cup sits at $7.00.
A pullback from the lip starts to form the handle. From there, it can either bounce and breakout through the lip line triggering the cup and handle breakout, or continue to fall through the weekly MSL trigger level to form a breakdown. Pullback support levels are $6.01, $5.62, $5.16, and the $4.56 weekly MSL trigger.