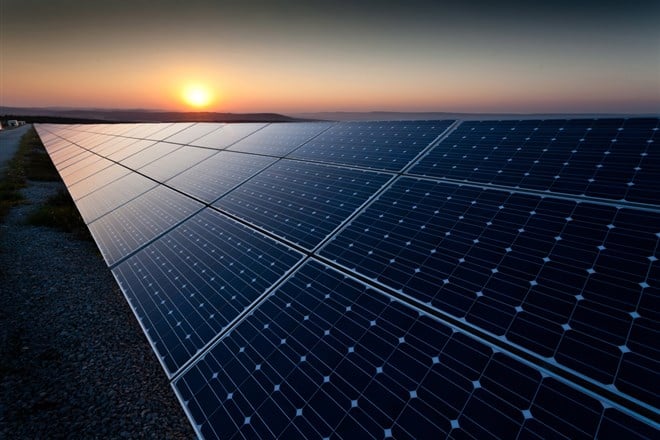 Solar panel maker Canadian Solar Inc. (NASDAQ: CSIQ) stock has shot up +38% in 2023 but is still in a weekly rectangle trading range since July 2021. Solar companies are all the rage as they've seen dramatic spikes in 2023 despite negative news like the California Public Utilities Commission (CPUC) decision to lower payments for solar panel users selling power back to the grid by 75%.
Since California is seen as spearheading the clean energy movement, it is a shock as research firm Wood Mackenzie estimates that action could cut California's solar market by 50% by 2024. This move will impact panel makers, including SunPower Co. (NASDAQ: SPWR), Sunrun Inc. (NASDAQ: RUN), First Solar Inc. (NASDAQ: FSLR), and Solar City parent Tesla Inc. (NASDAQ: TSLA).
Canadian Solar manufactures solar panels and develops solar projects for utilities and residential areas throughout the Americas, Europe, and Asia. In addition, the Company is evaluating options in the U.S. market due to the passage of the Inflation Reduction Act (IRA).
The Company has benefitted from the tailwinds of a strong U.S. dollar and its crafty maneuvering around solar tariffs. But those temporary tailwinds may turn into headwinds in the near future.
Temporary Strong U.S. Dollar Tailwinds
Canadian Solar is one of the companies that benefitted greatly from the strong U.S. dollar as it sources materials from China. However, these are temporary tailwinds as the U.S. Dollar index continues to fall over (-14%) from its highs when its Q3 2022 earnings were released.
The Company is doing a carve-out IPO of its CSI Solar Co. Ltd. in China and awaiting registration with the China Securities and Regulatory Commission (CSRC). CSI Solar produces solar modules both for businesses and consumers.
Circumventing Tariffs Triggers New Duty Rates in 2024
On Dec. 2, 2022, a U.S. Department of Commerce investigation concluded that Canadian Solar was among four solar companies that circumvented decade-long solar tariffs by finishing its products in Southeast Asian countries like Malaysia, Cambodia, Thailand, and Vietnam.
Nearly 80% of all U.S. panel supplies now come from those Southeast Asian countries. As a result, the U.S. will impose new duties on imports from some Chinese solar panel makers to equal the exact duty rates on Chinese-made products. However, they won't trigger under June 2024 due to a two-year waiver from the Biden administration.
Blow Out Earnings Beat, But…
On Nov. 22, 2022, Canadian Solar reported its fiscal Q3 2022 results for the quarter ending in September 2022. The Company reported an earnings per share (EPS) profit of $1.12, excluding non-recurring items, smashing consensus analyst estimates of $0.38 by $0.74. In addition, revenues spiked 57.2% year-over-year (YoY) to $1.93 billion, missing analyst estimates of $2.07 billion.
The Company had an 18.8% gross margin exceeding the guidance range of 15% to 16.5%. Net income grew 123%. Solar module shipments rose 62% YoY to 6.0 GQ versus 3.7 GW in the year-ago period.
CEO and President Comments
Canadian Solar CEO Dr. Shawn Qu commented," We continue to execute our long-term strategy and build on our competitive position with a further expansion of our upstream capacity and increased level of vertical integration in our solar manufacturing capacity." CSI Solar subsidiary Yan Zhuang commented, "We achieved significant growth in profit and volume during the third quarter, driven by strong demand, ongoing reductions in manufacturing cost, and currency benefits from a strong U.S. Dollar relative to the Renminbi." 
Lowered Q4 2022 Revenue Guidance
First Solar lowered its fiscal full-year fiscal 2022 EPS guidance between (-$0.65) to (-$0.35) from (-$0.25). In addition, the Company narrowed its expected revenues to $2.6 billion to $2.7 billion versus $2.61 billion consensus analyst estimates.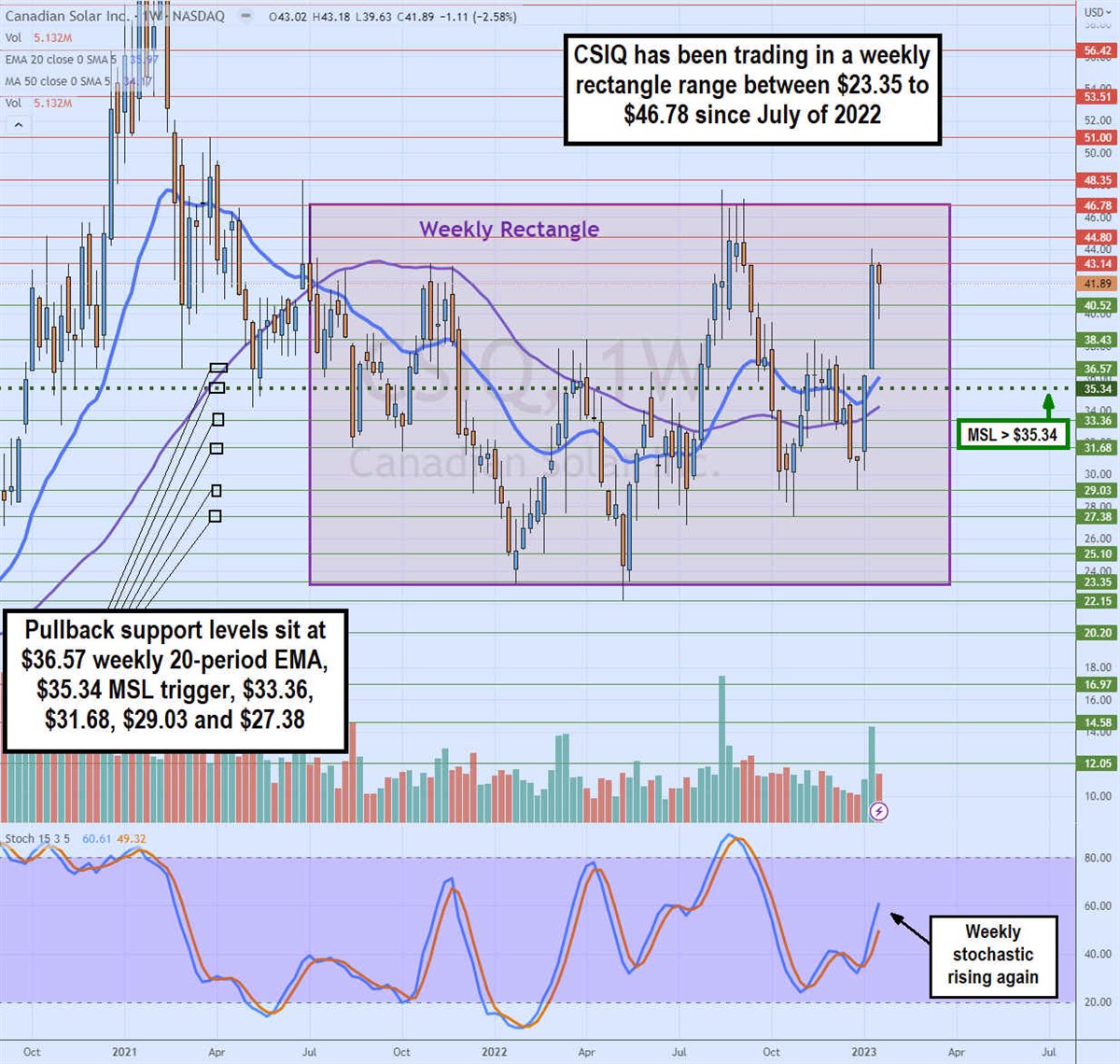 Weekly Rectangle Trading Range
CSIQ stock has been in an extensive weekly trading range between $46.78 and $23.35 since July 2021. Shares hit a low of $22.15 in  May 2022 before staging a rally to a high of $47.69 in August 2022. Shares pulled back to $27.36 and triggered a weekly market structure low (MSL) on the breakout through $35.34 as the weekly stochastic coiled back up.
Shares formed a divergent bottom as the stochastic coiled back up at a higher low, driving the stock around up through the weekly MSL trigger to spike through the weekly 50-period moving average (M.A.) at $34.17 and weekly 20-period exponential moving average (EMA) at 35.97 surging to a high of $44.07 before a reversion.
Despite being in a rectangle trading range, the stock is volatile, but the pullbacks are getting more shallow, with higher lows possibly setting up a breakout through the $46.78 top of the range. Pullback supports sit near the $36.57 weekly 20-period EMA, $35.34 weekly MSL trigger, $33.36, $31.68, $29.03, and $27.38.