NEW YORK, DUBLIN and MILAN, May 25, 2023 (GLOBE NEWSWIRE) -- Brera Holdings PLC ("Brera Holdings" or the "Company", Nasdaq: BREA) announced that Brera FC qualified for the FENIX Trophy Final Four Stage, which will be held in Milan on June 7 at the Arena Civica for the semifinals; and should the team win on June 8, at the legendary San Siro for the finals.
"It's a great honor for Brera FC not only to host but also to be part of the four finalists of this great event at two iconic venues of Milanese football," said Brera Holdings CEO, Sergio Scalpelli.  The BBC has called the FENIX Trophy Tournament "Europe's Champion's League for Amateurs," covering it in a lead story on BBC Sport in 2022.
The qualification is the result of a double fixture held this week: first, at the Arena Civica in Milan Brera FC recorded a 4-2 win against FK Miljakovac on May 17 (video highlights of the game: https://www.youtube.com/watch?v=v5CR6rjw7h0) and second; a 0-2 defeat yesterday against Danish Skjold FC in Copenhagen.
The match against FK Miljakovac at the Arena Civica started with a symbolic kick-off by Chris Gardner, a Brera Holdings Founder and Board member, entrepreneur and author of the New York Times bestseller, "The Pursuit of Happyness," his autobiography that inspired the movie of the same name starring Will Smith and directed by Gabriele Muccino.
The FENIX Trophy is a UEFA-approved international sports event owned and organized by Brera FC that involves nine non-professional European football clubs selected for their exceptional social, historical and cultural distinctiveness.
All matches are broadcast via live streaming on the FENIX Trophy TV YouTube Channel: https://www.youtube.com/channel/UCrlh7vC9YBEfpS1R4q5dslA
ABOUT BRERA HOLDINGS PLC
Brera Holdings PLC is a Nasdaq-listed (Stock Ticker: BREA) Irish holding company focused on expanding social impact football (American soccer) by developing a global portfolio of emerging football and sports clubs with increased opportunities to earn tournament prizes, gain sponsorships, and provide other professional football- and sports-related consulting services. The Company seeks to build on the legacy and brand of Brera FC, the first football club that was acquired by the Company in 2022. Brera FC, known as "The Third Team of Milan," is an amateur football association which has been building an alternative football legacy since its founding in 2000. In March 2023, the Company expanded to Africa with the establishment of Brera Tchumene, a team admitted to the Second Division Championship in Mozambique, a country of nearly 32 million people. In April 2023, the Company completed its 90%-acquisition of the European first division football team Fudbalski Klub Akademija Pandev in North Macedonia, a country which has the right to participate in two major UEFA competitions. The Company is focused on bottom-up value creation from sports clubs and talent outside mainstream markets, innovation-powered business growth, and socially-impactful outcomes. See www.breraholdings.com
Cautionary Note Regarding Forward-Looking Statements
This press release contains forward-looking statements that are subject to various risks and uncertainties. Such statements include statements regarding the Company's ability to grow its business and other statements that are not historical facts, including statements which may be accompanied by the words "intends," "may," "will," "plans," "expects," "anticipates," "projects," "predicts," "estimates," "aims," "believes," "hopes," "potential" or similar words. Actual results could differ materially from those described in these forward-looking statements due to a number of factors, including without limitation, the Company's ability to continue as a going concern, the popularity and/or competitive success of the Company's acquired football teams, the Company's ability to attract players and staff for acquired clubs, unsuccessful acquisitions or other strategic transactions, the possibility of a decline in the popularity of football, the Company's ability to expand its fanbase, sponsors and commercial partners, general economic conditions, and other risk factors detailed in the Company's filings with the SEC. The forward-looking statements contained in this press release are made as of the date of this press release, and the Company does not undertake any responsibility to update such forward-looking statements except in accordance with applicable law.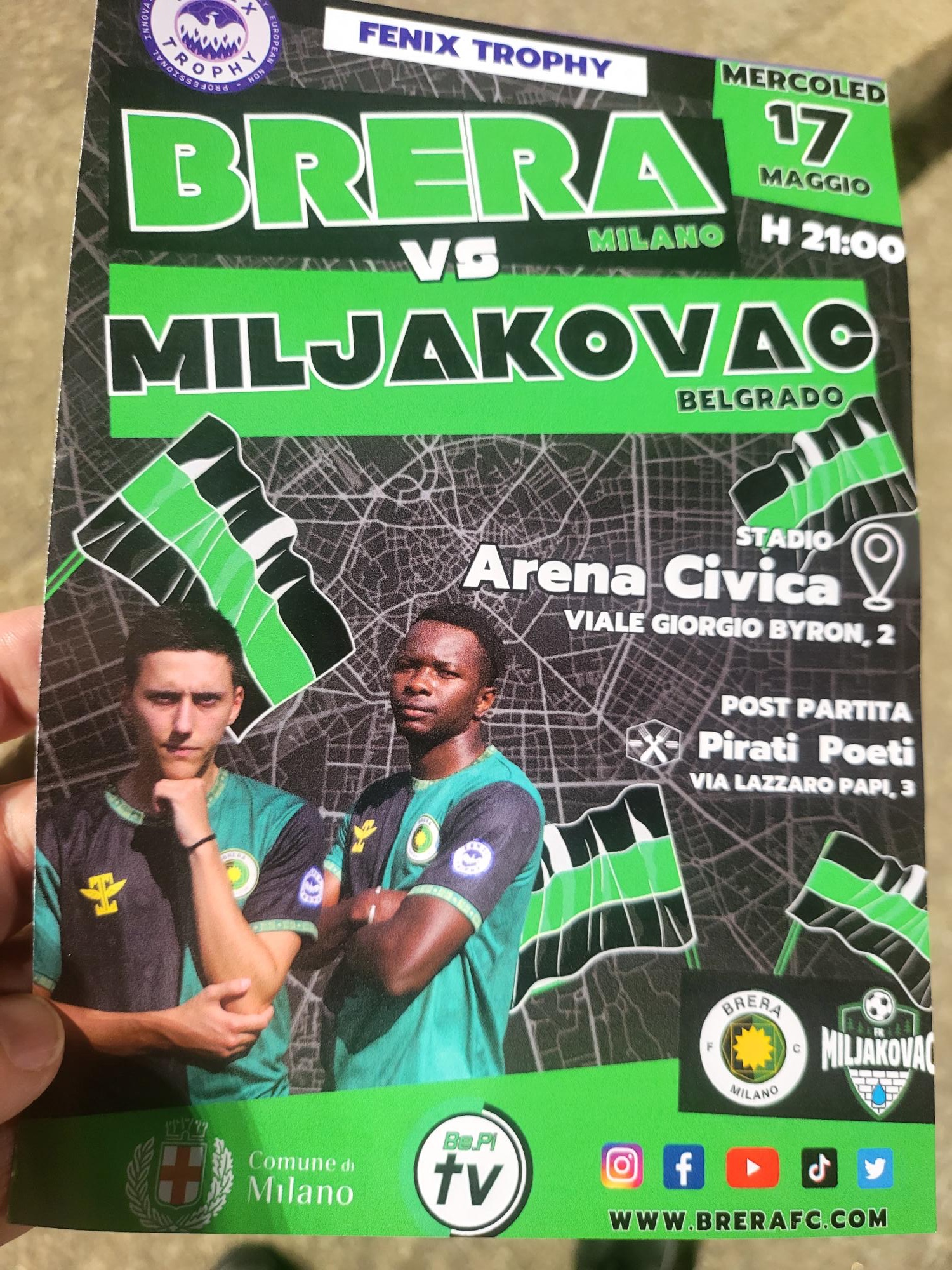 Brera v Miljakovac at the Arena Civica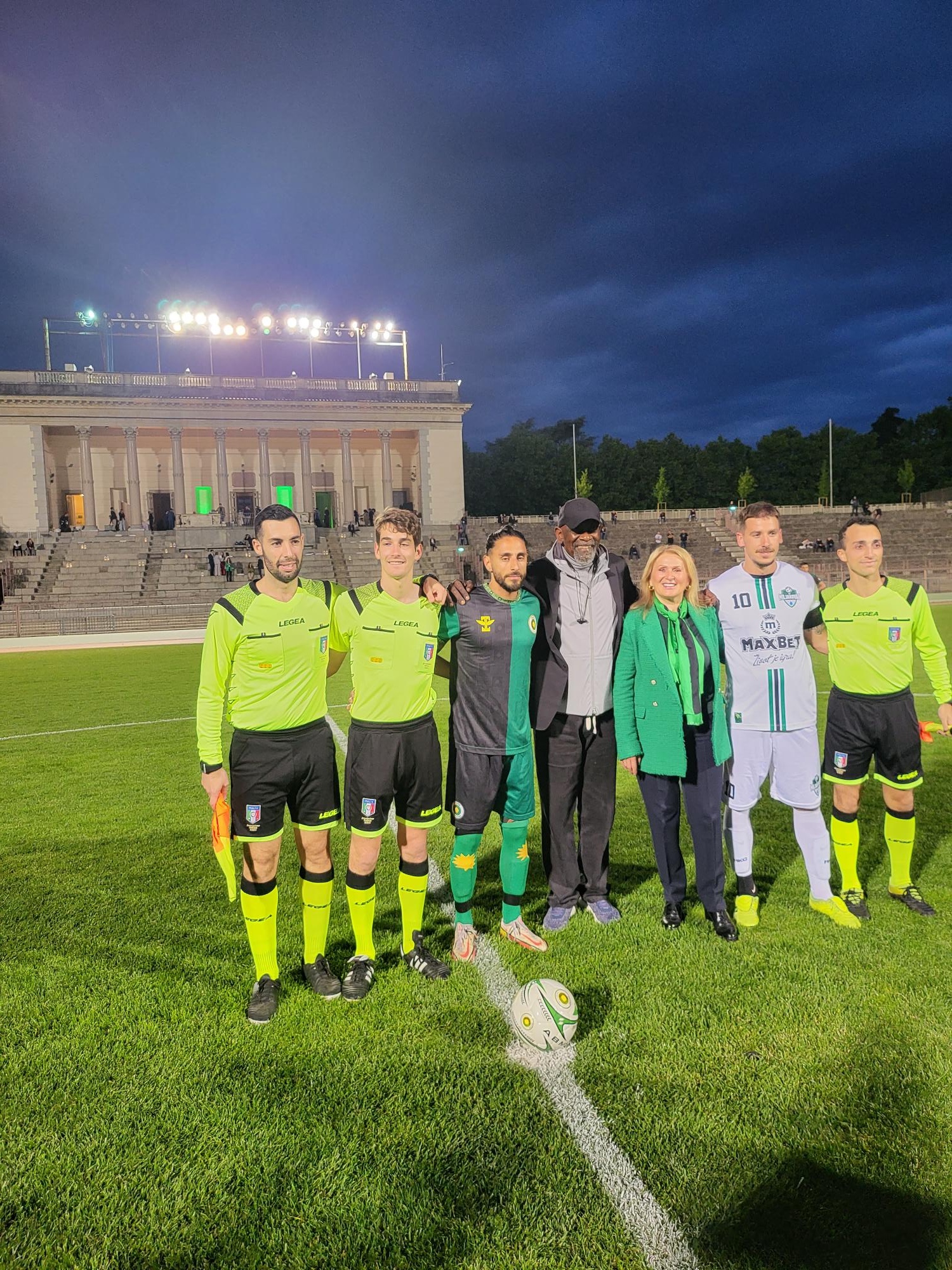 Chris Gardner and Serbian Consul General lead the teams to kickoff
CONTACT INFORMATION:
FOR MEDIA AND INVESTOR RELATIONS
Outside Italy:
Daniel McClory, Executive Chairman
Brera Holdings PLC
dan@breraholdings.com
In Italy:
Sergio Scalpelli, CEO
Brera Holdings PLC
sergio@breraholdings.com
Attachments