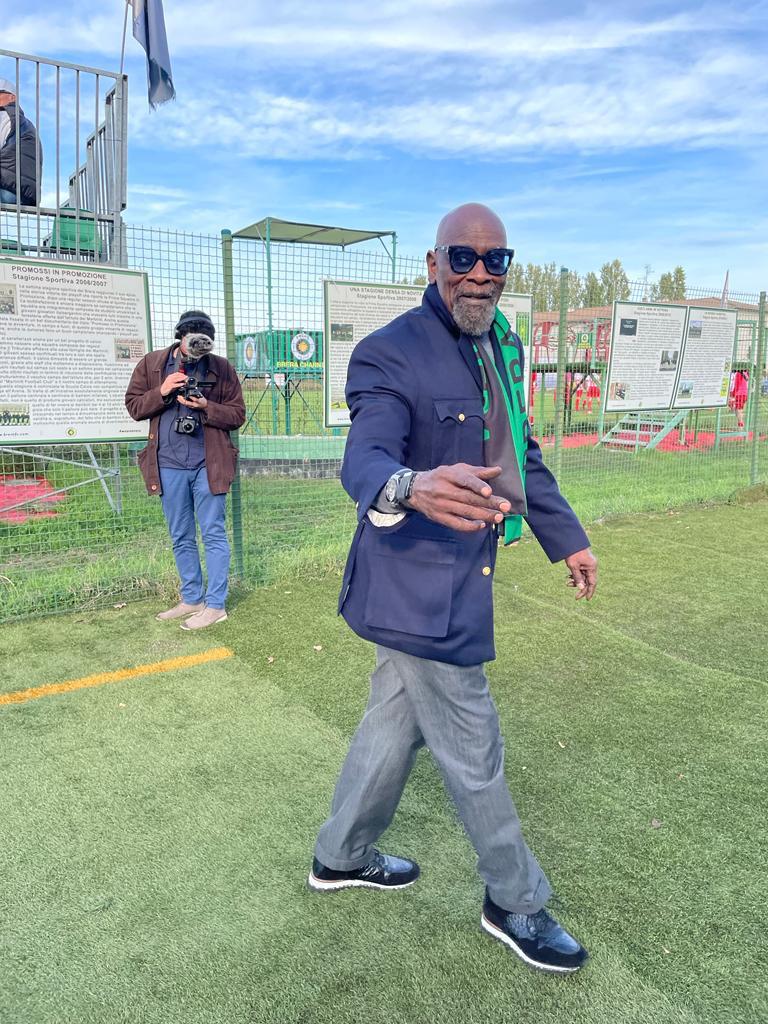 Chris Gardner on the Brera pitch in Milan
NEW YORK, DUBLIN and MILAN, May 15, 2023 (GLOBE NEWSWIRE) -- Brera Holdings PLC ("Brera Holdings" or the "Company", Nasdaq: BREA) announced that Board Member Chris Gardner has arrived in Italy to attend several meetings and major events this week. Enterpreneur and author of the New York Times bestseller The Pursuit of HappYness, his autobiography that inspired the movie starring Will Smith and directed by Gabriele Muccino, Chris Gardner is deeply engaged in the activity of, "The Christopher P. Gardner Foundation," which works to change the lives of young people.
His intense Italian agenda will start today, May 15, at the Busto Arsizio e-work Arena, near Milan, to meet the junior team of UYBA Volley, an Italian First Division women's volleyball club that recently announced the hiring of its new coach Julio Velasco, who is the former head coach of the multiwinner Italian Men's National Team. Gardner will host a Q&A session with the junior team and present his personal and professional experience.
On May 16, Gardner will attend the second leg football match of the prestigious Champions League semifinal between FC Inter and AC Milan. He will be hosted by Goran Pandev, also a Brera Holdings Board Member and former star FC Inter player, who was part of the team that won the 2010 legendary "Triplete."  The match takes place at iconic San Siro Stadium, which will host the final of Brera's FENIX Trophy tournament on June 8, 2023.
On the evening of May 17 Gardner will symbolically kick-off the FENIX Trophy group stage match pitting Brera Milano vs FK Miljakovic Belgrad at the Arena Civica Stadium. The FENIX Trophy brings together nine non-professional European football clubs chosen for their exceptional social, historical and cultural distinctiveness. The BBC has referred to it as, "the Champions League for amateurs."
On May 18, Gardner will attend the Tech.Emotion Conference and Dinner Gala. Tech.Emotion is the first international summit organized by Emotion Network and leading Italian newspaper Corriere della Sera, held at the Milan Stock Exchange, and matches technology and emotions aiming to unleash the full human potential.
On May 19, Gardner will be the special guest at the Canadian School of Milan for a Q&A session and a book signing of his most recent work Permission to Dream. The event takes its cue from his "Back2School" tour, which has seen him speak at 1,000 public schools all across the United States.  
"A Cocktail with Chris Gardner" organized by Brera Milano, and scheduled the same day at 6 p.m. at Centro Internazionale Brera, will end the week as the final event encapsulating the world of Brera.
More meetings and events are on the way.
Brera Holdings CEO, Sergio Scarpelli, expressed his happiness about Chris Gardner's visit to Italy, "This trip is very important. Chris Gardner is an inspiring and prestigious member of our Board and an extraordinary ambassador of our leading principles. His experiences will be motivational for all the people who will meet him during his Italian week." 
ABOUT BRERA HOLDINGS PLC
Brera Holdings PLC is a Nasdaq-listed (Stock Ticker: BREA) Irish holding company focused on expanding social impact football (American soccer) by developing a global portfolio of emerging football and sports clubs with increased opportunities to earn tournament prizes, gain sponsorships, and provide other professional football- and sports-related consulting services. The Company seeks to build on the legacy and brand of Brera FC, the first football club that was acquired by the Company in 2022. Brera FC, known as "The Third Team of Milan," is an amateur football association which has been building an alternative football legacy since its founding in 2000. In March 2023, the Company expanded to Africa with the establishment of Brera Tchumene, a team admitted to the Second Division Championship in Mozambique, a country of nearly 32 million people. In April 2023, the Company completed its 90%-acquisition of the European first division football team Fudbalski Klub Akademija Pandev in North Macedonia, a country which has the right to participate in two major UEFA competitions. The Company is focused on bottom-up value creation from sports clubs and talent outside mainstream markets, innovation-powered business growth, and socially-impactful outcomes. See www.breraholdings.com
Cautionary Note Regarding Forward-Looking Statements
This press release contains forward-looking statements that are subject to various risks and uncertainties. Such statements include statements regarding the Company's ability to grow its business and other statements that are not historical facts, including statements which may be accompanied by the words "intends," "may," "will," "plans," "expects," "anticipates," "projects," "predicts," "estimates," "aims," "believes," "hopes," "potential" or similar words. Actual results could differ materially from those described in these forward-looking statements due to a number of factors, including without limitation, the Company's ability to continue as a going concern, the popularity and/or competitive success of the Company's acquired football teams, the Company's ability to attract players and staff for acquired clubs, unsuccessful acquisitions or other strategic transactions, the possibility of a decline in the popularity of football, the Company's ability to expand its fanbase, sponsors and commercial partners, general economic conditions, and other risk factors detailed in the Company's filings with the SEC. The forward-looking statements contained in this press release are made as of the date of this press release, and the Company does not undertake any responsibility to update such forward-looking statements except in accordance with applicable law.
CONTACT INFORMATION:
FOR MEDIA AND INVESTOR RELATIONS
Outside Italy:
Daniel McClory, Executive Chairman
Brera Holdings PLC
dan@breraholdings.com
In Italy:
Sergio Scalpelli, CEO
Brera Holdings PLC
sergio@breraholdings.com 
Attachment