This portable power station also doubles as a power storage solution at home.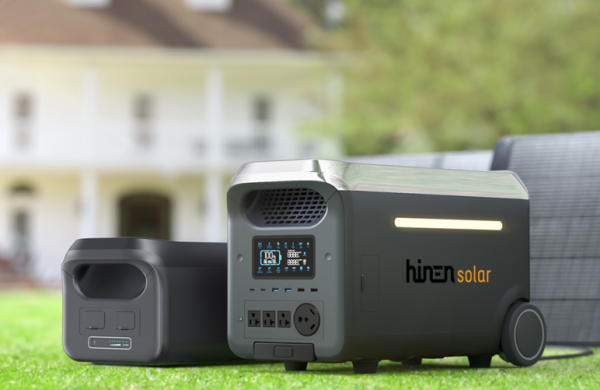 HinenSolar recently launched 2500W Portable Energy Storage Station for camping trips and homes. It uses a square aluminum shell lithium iron phosphate (LiFePO4) power battery, which is safe, stable, and durable, with a maximum power of 3000W. It supports a 2.5kWh extra battery and can support up to 6 power packs, reaching up to 17.5kWH. And it supports various charging methods, like solar fast charging, wall fast charging, power pack fast charging, diesel generator charging, etc.
The rise in popularity of portable energy storage solutions. 
Statista's e-commerce industry statistics show that the global camping equipment market has reached US$15.2 billion in 2021. The number of camping households in Europe and the United States has reached 86.1 million, and the camping penetration rate exceeds 65%. Portable energy storage power has gradually become a must-have for camping during this period.
Camping under the starry night, one can enjoy the coffee brewed by the coffee machine or the cold drinks in the mobile refrigerator, eat the food made with the barbecue grill, and watch interesting movies through the projector. Camping is a great way to get away from the noisy and fast-paced environment, feel nature's beauty, gather with family or friends, and enjoy friendship and affection. Such a beautiful camping life is inseparable from the sufficient power supply, and mobile energy storage power supply with small size and large capacity, which can supply power for various home appliances, is therefore favored by more and more people.
How does a portable power station work?
A portable power station has a variety of output methods, and one is enough to meet the needs of various small electrical appliances and electronic products. It is suitable for outdoor shooting, self-driving camping, outdoor dining, or emergency power supply. At the same time, it can also use solar energy to charge environmentally friendly, without damaging the natural environment, and realize low-carbon travel. This is one of the main reasons for its popularity.
What makes HinenSolar's 2500W Portable Energy Storage Station so reliable?
When carrying out outdoor activities such as camping, rock climbing, and RV travel, HinenSolar's  2500W Portable Energy Storage Station can guarantee the power supply of mobile phones, laptops, cameras, lighting, small kitchen appliances, and other equipment and solve the problem of power consumption. Camping is bound to be much more fun with the reliable and efficient HinenSolar's 2500W Portable Energy Storage Station.
To learn more, visit: https://www.hinensolar.com
For updates, follow HinenSolar on social media:
YouTube: https://www.youtube.com/channel/UCd7HbapCZAAG4rXVk0DmNwQ
Instagram: https://www.instagram.com/hinensolar/
Media Contact
Company Name: HINENSOLARHINENSOLAR
Contact Person: Chris
Email: Send Email
Phone: +86 769 8992 0666
City: Shenzhen
Country: China
Website: hinensolar.com