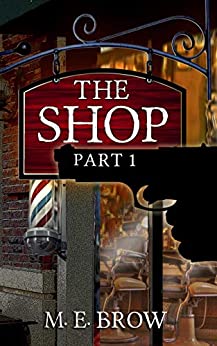 "The Shop: Part 1" by M.E. Brow has achieved coveted status a #1 bestseller in Amazon's "Penology" category, surpassing iconic crime author John Grisham, and #5 in the "Violence in Society" category, and #6 in the competitive "Criminology" category, surpassing a book about the hit Netflix show Mindhunter.
This 287-page crime thriller follows Jack Blasik, part of a family that owns a historic New Hampshire barbershop that has been long been used as a front for guns, drugs, and gambling. When an ex-con and former associate attempts a hostile takeover of the enterprise, violence among gangs, police, and those involved with The Shop soon follows.Full of excitement and gritty action, the novel pulls readers into a world of suspicion tension, where characters may turn on one another at any moment. As Jack considers leaving the family business to start a family, the turmoil of The Shop may prevent him from escaping – or worse, cost him his life.
The Shop: Part 1 (ISBN: 9798627319162) can be purchased through retailers worldwide, including Barnes and Noble and Amazon. The paperback retails for $8.99, and the ebook retails for $2.99. Review copies and interviews are available upon request.
From the back cover:
Jack Blasik has grown up in the family business—a barber shop called The Shop: Cuts for Men. Few would guess this pillar of the community has always been a front for guns, drugs, and gambling in an otherwise quaint New England town in the southwestern corner of New Hampshire. When Kane Wexler, one of the shop's long-time colleagues, is released from a five-year stint in prison, he aims to take charge of The Shop and will stop at nothing to make it happen. What Kane doesn't bargain for is a rival criminal element in town, or Jack showing signs of wanting to get out of the family business and start a new life with his fiancé. A violent power struggle erupts between rival gangs, law enforcement, and even among the members of The Shop that threatens to destroy them all.
About the author:
M. E. Brow is a native New Englander who has lived in Massachusetts and New Hampshire all his life. Brow has published three short story collections and his debut novel, "An Odyssey of Jackals", was released in 2019. His fiction has been aptly described as what might be the result of Quentin Tarantino and Edgar Allan Poe embarking on a joint writing project.
You can follow him at facebook.com/mebrow09
Media Contact
Company Name: MindStir Media LLC
Contact Person: Jen McNabney
Email: Send Email
Phone: 800-767-0531
Address:1 New Hampshire Ave Suite 125
City: Portsmouth
State: NH
Country: United States
Website: https://mindstirmedia.com/