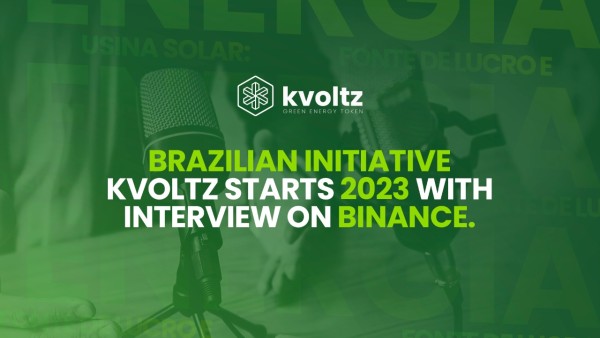 Brazil - January 6, 2023 - Kvoltz, Green Energy Token is a cryptoactive that brings, besides income, an option to invest in a sustainable business. In practice, the token finances the construction of solar power plants, where the electricity generated will be injected into the utility's grid and returned in the form of credit to registered micro and small businesses, as well as to holders of the KVZ coin.
To better explain this business model, CEO, Kleber Selhorst, Co-founder, João Maluf, and Marketing, Anderson Alves, will participate in a live event on the Binance Exchange platform. The participation will follow the format of AMA (Ask Me Anything) and will take place on January 6th, at 10am (EST).
During the live, the team will also talk about how they came up with the idea of combining a crypto-active with clean energy production. Thus, the investor who holds the token will receive bonuses, equivalent to 2% of the revenue obtained with the generation of this energy. Something almost pioneering in Brazil, since this manufacturing unit is already ready to operate.
Another theme that will be approached is the audit that the company recently passed and received the maximum grade. Today, the token has the international KYC seal, an abbreviation for "Know your costumer", which means "Know your client". The guidelines for achieving this seal involve combating illicit activities in the business world. As Kleber pointed out, "A way to ensure that people will be investing money in a solid and serious company."
Release schedule. To ensure the token's valuation, the launches are staggered, right now, the fintech is in the "Seed Sale" stage, where selected investors can purchase the KVZ coin at a minimum value of $5,000. In this round, 8,000,000 KVZ worth $0.05 were offered. Who is Kvoltz? The company was established in 2022 by four Brazilian partners, joining financial technology expertise with crypto and solar energy specialists. The office is based in the city of João Pessoa, Paraíba, and the team is made up of a multidisciplinary team of collaborators.

The name. The word KVOLTZ came from the junction of the letter "K", used to represent the number "1000" when talking about energy measurement (Killo Watts) and the word Volts.
Live Binance: https://www.binance.com/en/live/video?roomId=2116794&utm_campaign=binance_live
Website: www.kvoltz.com.br
Media Contact
Company Name: KVZ | Kvoltz
Contact Person: Renata Leitão / Jacson Marçal
Email: Send Email
Country: Brazil
Website: https://www.kvoltz.com/